It was a deceivingly simple question.
"What does 'Alleluia' mean?" Cardinal Donald W. Wuerl, Catholic archbishop of Washington, asked the more than 1,200 parishioners gathered to celebrate Easter Mass at the Cathedral of St. Matthew the Apostle on Sunday morning in Northwest Washington.
"Seeing so many young people here upfront, I wonder if you, too, have that same question," he said, inspiring numerous children to raise their hands to offer answers.
"To praise God," 11-year-old Eric Eng answered tentatively from his seat on the floor at the front of the packed church.
To laughter and applause, Cardinal Wuerl replied, "Thank you for making my homily a lot easier."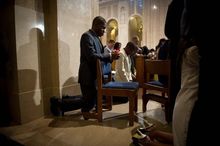 Going on to reflect on the meaning of the word throughout his address, Cardinal Wuerl said "Alleluia" helps Christians express joy and faith in ways that other words fail.
"The church uses 'alleluia' simply to express the overwhelming, incomprehensible testimony of the faith that Jesus Christ is risen from the dead," he said from a high lectern on the altar of the historic church. "The finality of death makes it difficult for us to grasp what we hold in faith, that Jesus Christ did come back from the dead. He conquered death."
Cardinal Wuerl celebrated the third of six Masses at the 117-year-old cathedral Sunday before heading to the Basilica of the National Shrine of the Immaculate Conception for a later Mass there. Regular congregants as well as families who traveled from out of town lined the walls and sat in carpeted aisles, moving aside to make way for priests as they sprinkled holy water on the crowds as part of the renewal of baptismal vows.
The Eng family from Los Altos, Calif., visiting Washington during their three children's spring break, chose to attend St. Matthew because of its proximity to their hotel and because of its history. The cathedral hosted President John F. Kennedy's funeral in 1963, and Pope John Paul II visited in 1979.
"The cardinal has this combination of being very spiritual, but he is also very down-to-earth," Julie Eng said.
Her son, Eric, who answered Cardinal Wuerl's question at the start of his homily, was equally impressed by the friendly atmosphere.
"I really liked it," Eric said as his family gathered to leave. "The most exciting thing was afterward, he came down and shook my hand."
Just a few blocks away, President Obama and his family attended Sunday morning services at St. John's Episcopal Church. Mr. Obama, first lady Michelle Obama and daughters Malia and Sasha walked across Lafayette Square to the church, which is just north of the White House.
Marking both Easter and Passover, Mr. Obama on Saturday called it a "time to celebrate redemption at God's hand."
Mr. Obama said in his weekly radio and Internet address that the holidays for Christians and Jews help connect Americans to their past and "give us strength as we face the future."