NEW YORK — Washington Nationals closer Drew Storen suffered a setback in his rehabilitation from right-elbow joint inflammation Sunday when he felt tenderness following a simulated game. Storen will visit with renowned orthopedic surgeon Dr. James Andrews on Tuesday for a second opinion.
Right now, the Nationals appear to be satisfied that an MRI arthrogram taken in March showed no structural ligament damage in Storen's elbow. But that same MRI, which involves a dye injected into the area to get the clearest picture, also revealed a "loose body," and the closer could be dealing with bone chips.
"Hopefully, it's nothing serious," manager Davey Johnson said. "But it doesn't sound good to me."
Storen, who saved 43 games in 2012, was shut down during spring training after feeling a similar kind of tenderness in his elbow following just two game appearances. He returned to Washington for the MRI arthrogram March 22 and was relieved when it showed no issues with his ulnar collateral ligament, as a tear in the UCL generally leads to Tommy John surgery.
The team felt then that the loose body likely was something Storen had had for some time, and the thought was that rest and medication probably would allow him to pitch through it.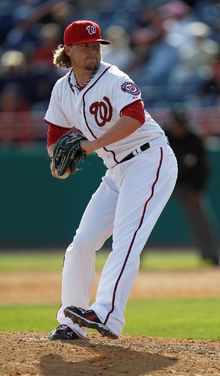 "Obviously, that aggravated after he threw to hitters again," Johnson said.
The Nationals are leery of jumping to a conclusion before Storen visits with Andrews, but if it is bone chips and surgery is needed to remove them, it could be two to four months before he's back in the majors. Former Nationals starter Jason Marquis dealt with bone chips in his elbow early in the 2010 season. He had surgery to remove them May 14 and did not make his next major league start until Aug. 8. As a closer, Storen could require less time to build up than someone such as Marquis once he is healthy.
Before he faced hitters for the first time Sunday in the simulated game, Storen hadn't had any issues with his rehab. He'd progressed from playing long toss to throwing off a mound in bullpen sessions without incident, and even got through his bullpen warmup Sunday without incident. But when he ramped up to face hitters, he felt what Johnson described as "fallback pain."
"Alarm bells went up on him after he threw the [simulated game]," Johnson said.
The logic the Nationals used when bringing Storen along slowly in the spring still applies as they plan to need him for important games late in the season. The thought behind sending him for another opinion was even if it was a slight discomfort they should allow him a re-examination and proceed from there.
For now, the Nationals will continue to use Brad Lidge and Henry Rodriguez in the closer role. Each picked up a save over the weekend in Chicago.
The Nationals are well-equipped to handle the loss of any of their relievers, perhaps more so than in years past. But the loss of their closer for an extended period still would hurt.
Storen didn't pick up his first save last year until April 17 as the Nationals used a number of relievers to close games early. He also didn't begin closing regularly until May — and still managed to earn 43 saves on a team that finished 80-81.
"I felt like last year we had one of the best bullpens in the National League," Johnson said. "With the addition of Brad Lidge we got even more depth. But any time you lose somebody of the stature of Storen … that's a big concern of mine.
"I love my bullpen. I think it's very capable. Thank goodness we have enough depth to hold us in there until he gets back."