Mike Shanahan doesn't remember who came up with the idea, but he thought it was a darn good one, so it became reality this spring.
Place Robert Griffin III's locker next to London Fletcher's. The rookie quarterback next to the team captain and 14-year NFL veteran. A budding team leader next to the most established voice on the team. The Redskins' version of Luke and Yoda.
"I said, 'Yeah, I can't think of a better idea than to have Robert's locker next to London's, especially the type of leader London is,'" Shanahan said. "You always like to have a number of guys being able to communicate with him and just pick his brain about how hard he works and how he handles himself."
And so Griffin will begin and end each practice at Redskins Park in close proximity to Fletcher. They can talk about football or the NBA or life or whatever.
Becoming a team leader is a crucial element of Griffin's transition to the NFL because it's an inherent part of his status as face of the franchise and the Redskins' starting quarterback. His relationship with Fletcher, the team's most respected leader, ostensibly will help.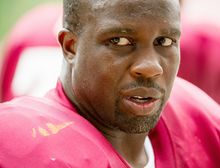 "I talk to these guys a lot about just about little things, whether it's picking up on what Fletcher has done to conquer so long in the league," Griffin said. "Sometimes people think it's what you say when you're in the huge group that makes you a leader, but sometimes it's the one-on-one conversations you have with guys individually, just getting to know them."
Griffin has earned some veterans' respect with his work ethic and humility in the face of superstardom, several players said in the last week.
Ultimately, he'll have to maintain that respect and establish himself as a leader with quality play in games. But for now, in the first days of his first NFL training camp, Griffin is doing what's necessary to make others eager to follow him.
"There's nothing forced from him, as far as being a leader," tight end Chris Cooley said. "There's no facade. He just has it. He'll grow and become more and more in that role, but it's there already. I think the groundwork is there for him to be a leader and a captain on this football team."
Fletcher will try to help nurture that foundation.
Coming off three straight Pro Bowls at age 37, he understands the importance of leadership and its requirements.
"You can tell when you meet guys who have it," said Fletcher, who led the NFL in tackles last season. "I think he's on the way, just the way he carries himself, not a sense of entitlement, just wants to work hard. He has continued to try to improve his craft."
Fletcher specifically commended Griffin's initiative in hosting some of the Redskins' receivers for workouts at Baylor during the dead period between minicamp and the start of training camp.
Not only did Griffin want to develop on-field chemistry with his teammates, he also wanted to introduce them to his home in central Texas and the university that shaped him.
Showing them he is Robert Griffin, not some RG3 hype machine, was paramount.