With three months to go before Election Day, President Obama's campaign manager faced a fusillade of questions Wednesday about whether he deliberately skirted disclosure rules during his time as deputy White House chief of staff, undermining the administration's claim to be "the most transparent administration in history."
A House Energy and Commerce Committee report released Tuesday revealed several emails from senior White House aides sent from private addresses, as well as email correspondence about meetings with lobbyists purposely scheduled off campus to avoid official records.
Jim Messina, then Mr. Obama's deputy chief of staff, sent one particularly embarrassing email to a pharmaceutical lobbyist from a personal email account, Politico reported Wednesday.
In it, Mr. Messina promises to "roll" Nancy Pelosi, the California Democrat who was House speaker at the time, on an agreement between the Pharmaceutical Research and Manufacturers of America and the Senate Finance Committee on provisions in the president's health care law that Mrs. Pelosi was resisting.
When asked about the use of private emails by top White House staff Wednesday, presidential spokesman Jay Carney said that Republicans were leading a politically charged witch hunt against Mr. Messina just months before the election to try to tarnish the campaign's top aide and strategist.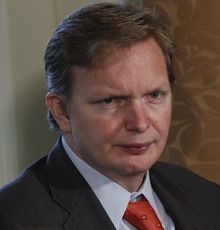 "Republicans have spent a great deal of time and money on investigations, which they themselves have characterized as political," Mr. Carney said. "This is not what the American people want their elected officials in Washington focusing on."
He then said Mr. Messina used his personal email account but was diligent in copying or forwarding the correspondence to his official email address to preserve records of the emails.
It is unclear exactly when Mr. Messina forwarded or copied the emails to his White House account, and a White House spokesman later did not say exactly when he did so.
The Presidential Records Act requires all official communication to be preserved. The Energy and Commerce Committee's report accuses the White House of refusing to verify whether White House aides preserved emails about official business sent from personal accounts.
Mr. Carney declined to comment about other aides arranging meetings with lobbyists and others at a coffee shop near the White House to avoid having the names of the people involved show up on White House visitor logs.
"Mr. Messina had a long-standing personal email account at which he got traffic," Mr. Carney told reporters on Air Force One. "In an effort to comply with all the regulations pertaining to the emails, he would forward emails to his White House account, copy his White House account so that those emails would be part of the presidential record."
When asked how common it was for White House officials to hold official meetings off-site to avoid transparency requirements, Mr. Carney repeatedly said he had no information for the reporters.
"I don't have anything on this specific issue," he said.
Mr. Messina's emails raise serious questions about efforts to keep certain meetings secret and put intraparty differences about the president's 2010 health care law into stark relief.
"I will roll [P]elosi to get the 4 billion," Mr. Messina wrote PhRMA lobbyist Jeffrey Forbes from his personal account days before the health care law passed Congress in March 2010. "As you may have heard I am literally rolling over the house. But there just isn't 8-10 billion."