Phillip Phillips says he wasn't that excited about performing his debut single, "Home," when he won "American Idol" this year. That's because he didn't have any creative control over the tune.
"I was trying to fight to get my song [I wrote] on there, but it just wasn't happening," said Mr. Phillips, who tried to persuade "Idol" producers to let him sing the song "Drive Me," which he co-wrote with his brother-in-law.
"It was hard for me at first because I didn't really have any input with the song," he said in an Associated Press interview Thursday from Baltimore.
But now, the 21-year-old said he's "starting to grow a connection" to the song, thanks to its use in the 2012 Olympics.
"Home" has been used in commercials for the "Fab 5," the five American female gymnasts who scored gold in the all-around team competition. As a result, the song's digital sales have jumped, selling 228,000 in the last week, according to Nielsen Soundscan. "Home" also leaped 80 spots to No. 9 on the Billboard Hot 100 chart this week. It's sold 844,215 tracks since its June release.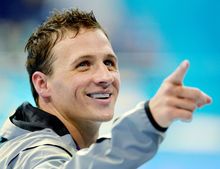 The song's reach doesn't end there: "Home" is also in Clint Eastwood's upcoming film "Trouble With the Curve," which stars Justin Timberlake and Amy Adams. It's in theaters on Sept. 21 and is about a retiring baseball scout and his daughter.
Mr. Phillips, who said the song is played after a "dramatic" scene, said getting it in the film is "awesome."
Olympian Lochte considering 'Bachelor,' 'Dancing'
Imagine "Bachelor" host Chris Harrison walking over to Olympian Ryan Lochte at the Bachelor mansion, saying, "Ryan, this is your final rose."
It could be a reality if the Olympian gets his way.
Mr. Lochte, 28, who won five medals during the Summer Games in London, sat down with "Today" host Matt Lauer on Friday and said he is considering a turn on one of ABC's reality shows.
"I'm definitely looking towards 'Dancing With the Stars' and 'The Bachelor,' so we'll see what happens," he said, adding that he plans to move to Los Angeles and work on a fashion line. A representative for ABC would not comment on casting for "The Bachelor."
Two New Jersey towns turn down 'Shore' spinoff
The New Jersey shore town that tried to close its bars early and restricts overnight parking has said no to "Snooki & JWoww."
The Point Pleasant Beach Council unanimously voted against 495 Productions' request to tape the "Jersey Shore" spinoff featuring Nicole "Snooki" Polizzi and Jennifer "JWoww" Farley.