Chris Cooley has been with the Washington Redskins from the Patrick Ramsey and Mark Brunell eras through Jason Campbell, Donovan McNabb and Rex Grossman. Thursday's preseason opener at the Buffalo Bills was his first in-game look at Robert Griffin III.
Griffin was 4-for-6 for 70 yards and a touchdown, but Cooley said it wasn't really a learning experience for teammates.
"I don't think anyone learned anything about Robert; they just continued to see what kind of guy he is. I think he came into the first game with a lot of poise," he said. "You just continually get what you see and expect out of the guy, and that's good performance throughout the football field and off the field and everything. He's been tremendous."
So many keep describing Griffin's poise, and Cooley is no different. But it starts before he takes a snap.
"A quarterback really has to demand respect when he comes into the huddle; he has to have the trust of everyone on the team," the Redskins tight end said. "The quarterback is instantly a leader offensively, and Robert's come in and taken a hundred percent credit of that role, and guys have embraced it."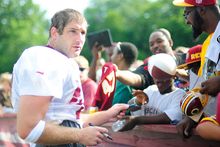 With hype aplenty, it's sometimes hard to remember that Griffin still hasn't played in an NFL regular-season game. He's still a 22-year-old rookie.
But Griffin doesn't question himself.
"I've never seen doubt in that kid's mind," Cooley said. "I think from Day One he stepped in and said: 'I'm here to win football games. I'm not here to see if I can be a good quarterback; I'm not here to see if things work out for me. I am coming to the Washington Redskins to win football games.' And I think a lot of people really, really like and respect that."