Friends and admirers of Marvin Hamlisch, including Bill Clinton and Ann-Margret, gathered Tuesday in New York City to bid farewell to the celebrated songwriter hailed as "the people's composer."
Mr. Clinton called Mr. Hamlisch, whose casket was covered in yellow flowers, a "great, giving genius," according to the Associated Press. Howard Stringer, head of Sony, called him "the merriest of minstrels."
Mr. Hamlisch died Aug. 6 in Los Angeles at age 68.
Other guests included Liza Minnelli, Joe Torre, Idina Menzel, Kelli O'Hara, Raul Esparza, Leslie Uggams, Richard Gere and Tony Danza.
Mr. Hamlisch composed or arranged hundreds of scores for musicals and movies, including "A Chorus Line" on Broadway and the films "The Sting," "Sophie's Choice," "Ordinary People" and "The Way We Were."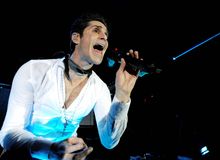 His funeral was held at Congregation Emanu-El, a prominent synagogue where George Gershwin's funeral was held in 1937.
Toronto festival organizers announce slate of films
Music is highlighting the Toronto International Film Festival with a Michael Jackson documentary from Spike Lee and a closing-night film featuring Vanessa Redgrave as a terminally ill choir singer.
Organizers announced Tuesday that Miss Redgrave's "Song for Marion" will close next month's Toronto festival, which runs Sept. 6 through 16 and is one of the key cinema gatherings that kick off Hollywood's fall movie lineup and Academy Awards season. The film directed by Paul Andrew Williams co-stars Terence Stamp and Gemma Arterton.
Mr. Lee's documentary "Bad 25" also is playing the festival, marking the 25th anniversary of Jackson's 1987 album "Bad," the Associated Press reports. The film features footage shot by Jackson himself along with interviews with such stars and music producers as Mariah Carey, Kanye West, Sheryl Crow and L.A. Reid.
Toronto planners announced dozens of other films to round out its 11-day run, among them Peter Webber's "Emperor," starring Tommy Lee Jones as Gen. Douglas MacArthur in the aftermath of Japan's defeat in World War II; Dante Ariola's "Arthur Newman," a romance with Colin Firth and Emily Blunt centered on a former golf hot shot who became a notorious choker on the pro circuit; and Brian De Palma's "Passion," an erotic thriller featuring Rachel McAdams and Noomi Rapace.
Other Toronto highlights include Lee Daniels' "The Paperboy," a murder tale set in 1960s Florida that stars Nicole Kidman, Matthew McConaughey, John Cusack and Zac Efron; Harmony Korine's "Spring Breakers," with James Franco, Selena Gomez and Vanessa Hudgens in a tale of college girls on a wild vacation; Paul Thomas Anderson's "The Master," starring Joaquin Phoenix, Amy Adams and Philip Seymour Hoffman in the story of a World War II Navy veteran drawn into a cult by a charismatic leader; and Scott McGehee and David Siegel's "What Maisie Knew," with Julianne Moore and Steve Coogan in an adaptation of a Henry James tale about a girl caught in a custody battle.
Among previously announced films at Toronto are the opening-night premiere "Looper," a sci-fi thriller starring Joseph Gordon-Levitt, Bruce Willis and Miss Blunt; Keira Knightley's Leo Tolstoy adaptation "Anna Karenina," featuring Jude Law and Aaron Taylor-Johnson; Ben Affleck's Iran hostage rescue saga "Argo," co-starring Bryan Cranston and John Goodman; and Robert Redford's fugitive manhunt tale "The Company You Keep," co-starring Shia LaBeouf, Susan Sarandon and Terrence Howard.
Along with the Venice and Telluride festivals that precede it, Toronto typically is a prime launch spot for many Oscar contenders. Among past Oscar winners that played the Toronto festival were "The King's Speech," "The Hurt Locker," "Slumdog Millionaire" and "Crash."
Jane's Addiction offers fans tickets after rain stops show