What is the secret to lifelong marital bliss?
This question lies at the center of "Hope Springs." The new film stars Meryl Streep and Tommy Lee Jones as Kay and Arnold, a couple that has been married for more than 30 years, and yet are romantically estranged from one another. They sleep in separate beds. They celebrate their anniversaries with purchases of household appliances and cable subscriptions. They haven't intimately touched each other for years.
"I feel like I'm married to ESPN," Kay complains. "I want a real marriage."
So off they go to couple's therapy, hoping to rekindle the spark of the love that went "poof" after they had kids. There, the earnest marriage counselor Dr. Feld, played straight by Steve Carrell, encourages the couple to engage in a series of "sexercises" that are supposed to heat up their romantic life — and they do.
"Does it feel good?" asks Kay, stroking her clothed husband on the bed.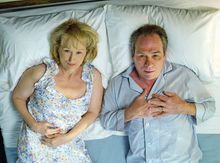 "Feels like you're petting the dog," says Arnold.
"Hope Springs" happens to be a charming and beautifully acted film. But is its implicit marital ideal of unceasing romantic love and sexual attraction realistic?
Our popular culture is infatuated with the ideal of passionate love, whose origins lie in the courtly traditions of the 12th-century French troubadours. We think passionate love is the basis of long-term relationships and that idea, therefore, often guides our marital decisions.
"The message we get over and over again is that strong sexual passion is love and that it's critical for long-term commitment," says psychologist Robert Epstein, the former editor of Psychology Today and a specialist on love and marriage.
This message has given rise to what psychologist Jonathan Haidt calls "the myth of 'true' love" in his 2006 book "The Happiness Hypothesis."
"True love is passionate love that never fades; if you are in true love, you should marry that person; if love ends, you should leave that person because it was not true love; and if you can find the right person, you will have true love forever," he writes.
The "love myth" reared its head in Elle magazine, when a reader who was "caught in a love spell" wrote in for some advice. She was cheating on her fiance with a man that she just couldn't "stop having sex with." Elle's advice columnist wrote back: "Halt! You are marrying the wrong man." The right relationship to pursue is the one full of fiery passion: "Marry the man your DNA is shouting for you to marry, and your chances for happiness are damn good."
This type of advice, based on the Hollywood model of love, sets us up to fail because "there is no such thing as passionate love," says Mr. Epstein.
"Media messages just confuse sex and love," he says.
Passion is evolution's siren call – an irresistible and dangerous force, which couples should approach with caution, Mr. Epstein argues. It's nature's way of ensuring that the necessary work of reproduction gets done.