The man arrested in connection with a shooting at a conservative Christian-based family organization Wednesday is being charged with assault with intent to kill and transporting ammunition across state lines after authorities found 50 rounds of ammunition — along with 15 Chick-fil-A sandwiches — in his backpack, according to court documents.
Floyd Lee Corkins II, 28, of Herndon, is expected to have make his initial court appearance Thursday afternoon in the District's U.S. District Court.
Authorities said Mr. Corkins fired on a security guard, striking him in the arm, inside the D.C. offices of the Family Research Council on Wednesday morning. The guard was able to wrestle a handgun away from Mr. Corkins and he was arrested.
Mr. Corkins apparently told the guard, "I don't like your politics" before retrieving a 9mm Sig Sauer pistol from his backpack and opening fire, according to an affidavit filed by an FBI agent in the case.
The Family Research Council has been outspoken on hot-button socials issues such as gay marriage and abortion, most recently in support of fast food chain Chick-fil-A after gay marriage advocates were outraged by company president Dan Cathy's comment that his business supported traditional marriage between a man and a woman.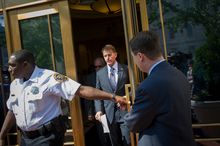 Mr. Corkins' parents also told investigators after they were contacted Wednesday that their son "has strong opinions with respect to those he believes do not treat homosexuals in a fair manner," court documents state.
Mr. Corkins faces 40 years in prison on the two criminal charges.