The best photos of Muhammad Ali, snapped largely by Neil Leifer of Sports Illustrated, capture the boxer's ferocity (as when he's yelling into the face of a downed Sonny Liston in 1965) and intensity (another Liston moment, this one from 1964). Even more than film or prose, still photographs capture the most important moments in a fight. There are things, however, that even the best boxing photography cannot deliver. The specificity of a photographed moment alienates as from what happened in the seconds before and after, and from the flow of the fight. Though he died in 1925, long before boxing became the sport it is today, painter George Bellows knew how to capture the flow of a fight. 1909's "Both Members of This Club" shows two boxers heaving against each other; their ribs and necks pink and pulpy not just from punches, but the strain of staying in the fight. "Stag at Sharkey's," from the same year, is the epitome of hand-to-hand combat. Both paintings are what modern boxing photography aspires to be. Through Oct. 8 at the National Gallery of Art, between Third and Ninth streets at Constitution Avenue Northwest. Phone: 202/737-4215. Web: www.nga.gov/exhibitions/bellowsinfo.shtm
Film: 'The Caine Mutiny'
1954's "The Caine Mutiny" was not Humphrey Bogart's last film (he made a half-dozen more before dying in 1957), but it was arguably his last great film. Unlike the roles Bogart had as a young man, his role as Lt. Cmdr. Phillip Queeg in "The Caine Mutiny" sees him as a grizzled veteran tasked with restoring order to a poorly run ship. His character is nit-picking, paranoid and all but washed up. Instead of being the leading man, Bogart serves as the foil for two junior officers — Lt. Thomas Keefer and Ensign Willie Keith — who are locked in a Manichean struggle. It's a role Bogart plays well, seeing as it mirrored his own declining stature in Hollywood; Bogart complained after the film was released that he got less than he deserved for the role. Monday at the National Theatre, 1321 Pennsylvania Ave. NW. Phone: 202/628-6161. Web: www.nationaltheatre.org/.
Food: DC Brau at Beer Week
For several years now, every microbrew worth drinking has had a rep in D.C. It was only a matter of time before the District got a brewery that could compete with beers from outside the realm. That brewery is DC Brau, the first production brewery located in the District. The various brews are distinct from their peers due to the fact that they come in cans, and are named for seminal events in D.C. history. The Corruption IPA, for instance, is a reference to Henry Clay's alliance with John Quincy Adams, termed "The Corrupt Bargain"; The Citizen refers to the passage of the 23rd Amendment in 1963, which gave D.C. residents the right to vote for president and vice president. As part of DC Beer Week, DC Brau will unveil its newest beer, Embers of the Deceased, made in cooperation with Bluejacket Brewery, opening later this year in Southeast. Friday at ChurchKey, 1337 14th St. NW. Phone: 202/567-2576. Web: http://churchkeydc.com.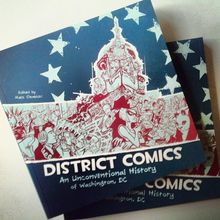 Book signing: District Comics: An Unconventional History of Washington, D.C.
The District doesn't want for historical documentation. Not only does it have more daily chroniclers than any other city in the country (save, perhaps, for New York), but it's also been fictionalized (George Pelecanos), turned into a video game (Fallout 3) and rendered comprehensible by more documentaries than we can count. That's not the end of it, however. "District Comics: An Unconventional History of Washington, D.C.," released earlier this year, tells Washington's story yet again, this time in graphic novel form. The ink work of several of the city's luminaries is on display in this anthology, from Harvey Award-nominee Scott O. Brown, to Feynman creator Jim Ottaviani. The breadth of talent also means a breadth of historical stories, from the District's origins as a swampy settlement, to its short-lived role as the punkest place on the planet. Sunday at the One More Page Books, 2200 N. Westmoreland St., Arlington. Phone: 703/300-9746. Web: www.onemorepagebooks.com/.
Theater: George Tabori's 'Mein Kampf'
George Tabori's 1987 play about two Jews who meet a young Adolf Hitler during his time an aspiring artist is a dark and humorous alternate history. That Tabori, a Budapest-born survivor of the Nazi and Arrow Cross purge of Hungarian Jews (his father was not so fortunate, and died in Auschwitz), found any humor in Hitler's beginnings was a feat of the spirit. The plot of the play is a feat of theater. Upon being rejected by the Academy of Arts in Vienna, a young Hitler befriends two Jews in the Austrian city. One of them is a bookseller named Schlomo Herzl, who despite Hitler's petulance, ugliness and blossoming anti-Semitism, takes the future maniac under his wing and protects him — not because he has to, but because his faith instructs him to be charitable and compassionate. Through Sunday at H Street Playhouse, 1365 H St. NE. Web: www.scenatheater.org/.