A remake of a 1976 film about the dark side of fame and the enduring power of dreams, "Sparkle" is marred by more than a few rough edges. There are moments of rare ineptitude, especially behind the camera. Uneven and bizarre cinematography gives an inappropriately zany feel to some of the movie's darker moments, which are marked by absurd angles, slow-motion and sudden, pointless shifts in perspective.
At the same time, "Sparkle" celebrates the power of music in a way that movies rarely do — by letting songs play out at their full length. This allows the audience to experience the connection to the era and the style the movie tries, with some success, to bring to life.
"Sparkle" is also the acting swan song of the now-deceased Whitney Houston, who gives a steady but one-note performance as a strict, churchy mom whose checkered past has led her to keep her children on a tight leash, and be very wary of their artistic aspirations.
Steeped in the music of Motown, "Sparkle" tells the story of the gifted and ambitious, but outwardly shy songwriter Sparkle ("American Idol" winner Jordin Sparks), who leans on her worldly older sister, called Sister in the film and played by Carmen Ejogo, to sing her songs.
At a club, Sparkle meets Stix (Derek Luke), who persuades her to form a girl group. Sister sings lead, and their other sister Dolores (Tika Sumpter) joins Sparkle on backing vocals. Detroit is shown in the late 1960s, amid ongoing riots but before the assassination of Martin Luther King Jr., as a place of musical ferment and an exciting youth culture.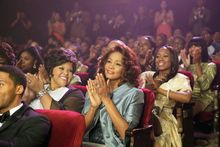 The action of the film is enveloped inside the black community. When racism intrudes, it's in the guise of comedian Satin Struthers (Mike Epps), whose routines mock his fellow blacks for the amusement of whites. Mr. Epps, a comedian himself, brings care and complexity to the role of the self-hating and corrosive Satin, but his effort is largely squandered by poor editing and directing choices that make the performance appear ridiculous in key moments.
The movie follows Sister's decline, and the conflict faced by Sparkle as she tries to balance her own ambition against the well-being of her family. "Sparkle" is a remake, not a note-for-note cover version, and there are some significant plot differences between the two movies, not least of which is Sister's ultimate fate.
The new songs by R. Kelly don't come close to measuring up to the Curtis Mayfield songs in the 1976 original. To some extent this is unfair. Mr. Mayfield's "Something He Can Feel" is an enduring classic, and on a shortlist of truly great songs that were written for movies. But new tracks "One Wing," "Celebrate" and "Love Will" pay homage to the Motown era, without really summoning it, and seem out of place in this costume drama.
Still, Miss Sparks is a wonderful singer, and her performances are the highlight of the movie. Whitney Houston turns in a performance of the gospel classic "His Eye Is On the Sparrow" in a church set piece that had a few members of a screening audience standing up and cheering.
★★
TITLE: "Sparkle"
CREDITS: Directed by Salim Akil. Written by Mara Brock Akil. Story by Howard Rosenman
RATING: PG-13 for drug use, violence and sexual themes
RUNNING TIME: 116 minutes
MAXIMUM RATING: FOUR STARS