The year was 1967, and 23-year-old Syracuse University student Bob Wheeler had been hitchhiking across the country, conducting hundreds of interviews for his master's thesis, an oral history of legendary American Indian athlete and Olympian Jim Thorpe.
Armed with a bulky, reel-to-reel tape recorder, Mr. Wheeler had met with Thorpe's widow. He'd visited former President Eisenhower, who as an Army cadet played against Thorpe in a 1912 college football game.
Then the interviewer ran into a problem. He was outside the MGM Studios lot in Culver City, Calif., pleading with a security guard. He was determined to speak with Burt Lancaster, who had portrayed Thorpe in a film; the guard was determined to remove the unexpected visitor from the premises.
"One call," Mr. Wheeler said. "Let me make one call to his office."
The guard relented. The student picked up a phone and soon found himself in Lancaster's office, surrounded by Telly Savalas, Ossie Davis and Shelley Winters.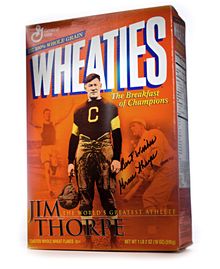 "Burt Lancaster asked them to excuse themselves for a while," Mr. Wheeler said. "He then closed the door — and latched the deadbolt! He just relished talking about his hero, Jim Thorpe."
Decades later, Mr. Wheeler can relate. The 68-year-old author of "Jim Thorpe: World's Greatest Athlete" will be speaking about Thorpe on Friday afternoon at the National Museum of the American Indian as part of the museum's ongoing exhibition "Best in the World: Native Athletes in the Olympics."
A member of the Sac and Fox tribe and a two-time Olympic gold medalist in track and field, Thorpe excelled in numerous sports, helped found and popularize the National Football League and was arguably the best-known, most-revered athlete of his era.
"He's a major hero for a lot of American Indian athletes," said Jim Adams, a senior historian with the National Museum of the American Indian. "But he also was probably one of the first American Indians to become a real national hero without a connection to being an Indian or a chief or something.
"His achievements were historic. They helped form a great deal of American popular culture. And he really was the greatest American athlete of the 20th century."
A mythic man
True story: Before the final event of the decathlon at the 1912 Olympics in Stockholm — a 1,500-meter foot race — Thorpe reached into his bag and found that his shoes were missing.
Undaunted, he borrowed one shoe from a teammate and found another in a trash can. The discarded shoe was too small for Thorpe's foot; the borrowed shoe was so large that he had to wear extra pairs of socks to keep it from slipping off.
Still, he captured a gold medal and won the race in 4 minutes, 40.1 seconds — an Olympic decathlon record time unsurpassed until 1972.
"In the 400-meter race [in the London Olympics decathlon] a couple of days ago, the gold medal winner beat Jim's time by 0.7 of a second," Mr. Wheeler said. "That's on a modern, high-tech composite track. The track was cinder when Jim ran.