When a house set in the woods in Reston was beset by several varieties of woodpeckers, the owners knew that in spite of their love of the birds, they would have to repair the damage the birds had inflicted on their cedar trim and siding.
Steve Magill, a remodeling consultant with Fred, the home-repair division of Case Design/Remodeling in Bethesda, worked with the homeowners to find a solution to the woodpecker situation that not only repaired the damage but also increased the home's curb appeal.
"The homeowners were thinking at first of just replacing the trim because they liked the look of their wood home, Mr. Magill said. "We looked into the option of replacing the cedar or using vinyl siding, but the best product in terms of longevity and resistance to woodpeckers is fiber cement siding. We wrapped the home in James Hardie building wrap, which is weatherproof but allows the house to breathe, then used HardiePlank for the exterior."
Mr. Magill said that while vinyl siding typically is less expensive than wood or fiber cement siding, vinyl can be a fire accelerant and tends to warp in different temperatures. Wood siding is less expensive than fiber cement initially, but it requires primer and paint and more upkeep, so Mr. Magill said they are comparable in price overall.
"One of the most cost-effective exterior remodeling projects is replacing the siding," said Bennett Goldberg, president of MDV Custom Homes and Remodeling in Ijamsville, Md., and a member of the ServiceMagic Network. "We work throughout the Washington region in every price range. Midlevel vinyl siding can be a good option and is definitely less costly than fiber cement siding.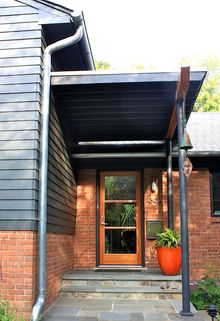 "Over time, vinyl siding will show more weathering because it is flexible," he said. "You'll see some discoloration and sun damage compared to fiber cement siding, but it can be a good value."
David Benton, an architect with Rill Architects in Bethesda, said he replaced the cedar siding on his home with fiber cement siding, in part because of the reduced maintenance required.
"Fiber cement siding is probably twice as costly as vinyl siding, but it looks a lot more like traditional wood and doesn't require paint," Mr. Benton said. "The fiber cement siding is pre-finished in a variety of colors."
Homeowners can find a variety of ways to improve their curb appeal without replacing the siding. Changing the front door, adding interest with shutters and a front porch or just replacing or painting the trim can emphasize the positive features of a home and reduce the negative.
Mr. Benton revamped the front of his home with a new front door, new gutters and a new portico entrance.
"My home is a rambler-style split-level design, so we chose a galvanized half-round gutter to emphasize that style," he said. "We replaced the portico entrance because the existing metal trellis detail didn't go with the house and the threshold was so low that our contractor kept bumping his head. We wanted to play up the midcentury design and play up the post-and-beam construction, so the exposed beam that frames the portico actually continues into the house."
The type of project you choose depends on your home style and size, Mr. Magill said.
"In a town home, you may want to replace the front door and the trim around the upper windows, but in a larger single-family home, you may need to add or change the front porch for greater impact," he said. "You can replace things like rotting rails or column bases and window trim on an individual basis and paint them to match, which is much less expensive than replacing the entire outside of the house."
Mr. Magill said contractors typically can duplicate shutters that already are in place with new vinyl or fiberglass shutters or clean and paint existing shutters.
"Hollow vinyl shutters are the least expensive option, or you can go with wood or fiberglass," Mr. Magill said. "Operational shutters with hinges are more costly. If you compare wood and fiberglass shutters, fiberglass may seem more expensive at first, but they are pre-painted and require less maintenance. Wood shutters need to be painted and primed."