After being selected in the second round of the 2011 NFL draft, Jarvis Jenkins had everything laid out in front of him. The former Clemson Tiger was set to have a big impact on the Washington Redskins' defensive line.
That all changed against the Ravens in the team's third preseason game when Jenkins tore the ACL in his right knee.
"He was having a heck of a preseason last year when he got hurt against Baltimore," coach Mike Shanahan said this week. "He was a difference-maker inside."
Now in training camp after missing the 2011 season, Jenkins has had no setbacks when planting or putting pressure on his knee.
"It's doing pretty good," said Jenkins, who's listed at 6-foot-4, 309 pounds. "I got all the tendinitis out. I'm feeling healthy — feeling like I was last year before I got hurt."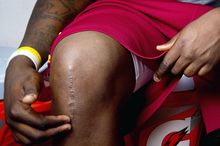 In practice Tuesday, Jenkins was playing the tackle and end positions on first and second teams, getting in as many reps as he could. Sticking out like a sore thumb, however, was his knee brace. While some may see it as a hindrance, Jenkins is using it to his advantage.
"That's all the protection I need," Jenkins said. "That brace gives me confidence to do everything I did before I got hurt."
Fellow defensive lineman Stephen Bowen, a seven-year veteran in his second season with the Redskins, has been pleased with Jenkins' performance.
"He's been playing really well," Bowen said. "He hasn't really missed a beat. I expect him to be a great player. He's really going to help us out.
"We're going to come at people in waves this year. And to have depth we're having and a lot of great defensive linemen, I think it's going to be great for us."
The veterans around Jenkins have done their part to make the transition from rehab to football easy for the former 41st overall selection.
"Adam Carriker, Barry Cofield, Stephen Bowen, [Brian] Orakpo, all those guys were teaching me a lot in the offseason when I was still in meetings before and after my treatment," Jenkins said. "[I was] just learning from their mistakes, and hopefully I can take it to the field and not make those mistakes."
When the Redskins line up against the Buffalo Bills next Thursday for their first preseason game, Jenkins will have his work cut out. There may be some hesitation, but he will need to display the confidence he has carried throughout camp on the playing field.
"He's the type of defensive lineman that we expect him to be," Shanahan said. "Very big, very powerful — a guy that can help us win."