As a boy taking piano lessons in Buenos Aires, Maximo Flugelman was happier improvising his own tunes than practicing the Haydn sonata assigned by his teacher.
This boyhood interest in creating music became what he called "a festering curiosity," but he went first to the University of Geneva to study economics, followed by Harvard Business School for his MBA. Only then did he sign up for composition courses at the Juilliard School, where his teacher was the composer John Corigliano.
Today, Mr. Flugelman, who lives in Georgetown, is a highly unusual hybrid of money man and composer. He is a founding partner of a global finance company — Corfina Global Advisors LLC — that recently negotiated the acquisition of a university in Latin America for a U.S. client, and he composes music that gets performed.
"I never resolved the two avocations; I just hoped the cocktail of music and finance would not be too mutually exclusive," he remarked in a recent interview. "After all, [composer] Charles Ives also had a financial background."
So far, the cocktail seems to have worked fine.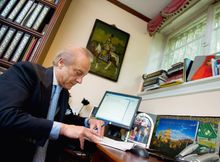 Mr. Flugelman's first composition for orchestra, "Symphonic Variants," won the Indiana University Contemporary Orchestral Composition Prize with a well-received performance by the Indianapolis Symphony Orchestra while he was still at Juilliard in 1982. Since then, his output has been steady, if not prolific. His compositions have been performed in settings as varied as New York's Carnegie Hall, the Kennedy Center, the Teatro Colon in Buenos Aires and the Breckenridge Music Festival in Colorado and by orchestras ranging from the Berlin Symphony to the National Symphony Orchestra.
In June, his concerto for violoncello and orchestra was performed at the Castleton Festival in Virginia, conducted by the festival's organizer, Lorin Maazel. The richly textured work in two movements has a haunting, lyrical quality requiring some expressive playing by the soloist — in this performance, the young Israeli female cellist Inbal Segev — with a rousing, brilliant finale.
Mr. Flugelman even offered to compose a new cadenza for the performance — a few bars for the soloist to show off her virtuosity. "I said sure," Miss Segev said. What arrived "was a whole page of very complex fingering," she added.
"I knew Maximo socially, but he's so modest he never mentioned that he was a composer," Mr. Maazel told The Washington Times. "I had to discover it from someone else. So I looked into the piece and told him I wanted to conduct it. It came as a complete surprise. He is a very precise, professional composer, which makes the conductor's work easy."
The cello concerto was commissioned to mark the 50th anniversary in 1996 of the Buenos Aires Philharmonic, the resident concert orchestra of the stately Teatro Colon in the Argentine capital. Last year, it was performed at the Grand Theater in Paris, with American cellist Gary Hoffman as soloist. Next year, it is scheduled to be performed by the Orquesta Simon Bolivar in Caracas, Venezuela.
Composers don't like being labeled, but Mr. Flugelman said some critics have identified in his compositions "a neo-Romantic influence, probably absorbed from my teacher, John Corigliano.
"I write music that people can listen to. There was a lot of bad music written in the 1960s and 1970s, but that's changed, and it's a breath of fresh air to have the freedom to express accessible music."
Maximo Flugelman may have been born in the land of the tango, but critics have detected the influence of Argentina's national dance in only one of his compositions. His influences are much wider. Listening to other composers' work inspires him. "I wrote my piano quartet after listening to Shostakovich's Piano Quartet," he said.
Richard Strauss' "Four Last Songs" resulted in Mr. Flugelman's "Sea Sonnets," a song cycle for soprano and orchestra.
But the best inspiration "is a commission with a deadline," he said. "It's the best disciplinarian, and the ideas do come."