More than 1,700 students from the District will get the chance to attend a private school this year through a federal voucher program, despite an ongoing debate among leaders in the city and on Capitol Hill about whether "school choice" should stay within the bounds of the public school system.
The D.C. Children & Youth Investment Trust Corp., which has administered the program since June 2010, has completed its lottery and announced this week it will be awarding 1,489 scholarships to returning students and 299 scholarships to new students, a total of 1,788. Among the students who received new scholarships, 75 percent had attended a public school or public charter school designated as "in need of improvement," according to the trust.
The new recipients were selected from 1,300 applications, of which 505 eligible students participated in a lottery for the vouchers.
Congress established the D.C. Opportunity Scholarship Program in 2004, a first-of-its-kind program for the city's parents who want to send their disadvantaged children to Catholic schools or other private facilities instead of struggling public schools.
Mr. Obama had not included any funding for the politically sensitive scholarship program in his fiscal 2013 budget proposal, part of a trend by his administration since 2009 to phase out the program by funding only existing enrollees.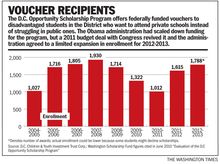 But House Speaker John A. Boehner, Ohio Republican, and Sen. Joe Lieberman, Connecticut independent — two high-profile supporters of vouchers — announced in June that they had struck an agreement with the U.S. Department of Education to carry out the program with no specific cap on enrollment, so both new and existing enrollees can apply to the program.
The administration depicted the pact as more limited in scope than that of Capitol Hill lawmakers, who claimed Mr. Obama had "reversed course" through the agreement. The U.S. Department of Education said that rather than an open-ended program, it wanted to increase enrollment from 1,615 to about 1,700 students for the coming year to allow for a "statistically valid evaluation of the program."
"Though we agreed to allow a modest increase in the number of students admitted to the D.C. voucher program next year to comply with a congressionally-mandated study, there has been absolutely no change in policy," DOE spokesman Justin Hamilton said Thursday. "Our focus is on making sure all students get a world-class education. The best way to do that is by reforming our public school system."
It remains to be seen whether final enrollment under the D.C. voucher program will pass the 1,700 mark.
"Not every student who is awarded a scholarship will use it, therefore we won't have actual enrollment numbers until we issue the first checks for the program in October to know who actually used their scholarship," said Ed Davies, vice president of external affairs for the trust.
D.C. Mayor Vincent C. Gray, a Democrat, has opposed the voucher program, arguing that true school choice lies with a robust system of traditional public schools and charter schools.
But Robert C. Bobb, chairman of the trust's board of directors, said the program is "a valuable resource in helping the city move toward its goal of providing every child in the District of Columbia with a great education."
For the upcoming school year, scholarship amounts increased from $12,000 to $12,205 for high school students and from $8,000 to $8,136 for middle and elementary school students, according to the trust.
Despite an expansion of funding, U.S. Education Secretary Arne Duncan said in June that his department remains "convinced that our time and resources are best spent on reforming the public school system to benefit all students, and we look forward to working with Congress in a bipartisan manner to advance that goal."
A 2010 study mandated by Congress found "no conclusive evidence" the voucher program improved student achievement, but it "significantly improved" students' chance of graduating from high school.