George Allen on Monday was among the first Republican U.S. Senate candidates to publicly condemn Missouri Rep. and Senate candidate W. Todd Akin's remarks on pregnancy and rape as he tries to join a sizable list of political comebacks that first began with an ill-timed bout of foot-in-mouth disease.
Mr. Allen repeatedly has apologized for referring to a volunteer for Sen. Jim Webb during the 2006 U.S. Senate campaign in Virginia as "macaca," which is perceived in some cultures as an ethnic slur. Mr. Allen is now locked in a dead heat with fellow former Gov. Tim Kaine in this year's race to replace Mr. Webb, a Democrat.
So why did Mr. Allen feel compelled to speak out publicly on Mr. Akin?
"Because I thought it was important for people to see my point of view," he told The Washington Times in a brief interview after attending a roundtable event Monday with largely minority owners of small businesses.
Should Mr. Allen win his race and complete one of the more remarkable political comebacks in recent memory, he would not be the first to overcome similar missteps, however.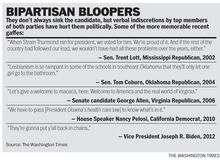 Somewhat lost now against the backdrop of Mr. Allen's 2006 remarks are Mr. Webb's words that cropped up as a campaign issue for him. Most notably, Mr. Webb had penned a 1979 article titled "Women Can't Fight" in Washingtonian magazine that questioned whether women were fit for military combat and apparently led to women facing harassment at the Naval Academy.
Mr. Webb later apologized for the "tone" of the article and "to the extent that my writing subjected women at the academy or the active armed forces to undue hardship." He also stressed that as secretary of the Navy under President Reagan he opened more military billets to women than any secretary in history.
Elsewhere, like Mr. Akin, Sen. Tom Coburn of Oklahoma was damaged in 2004 not by his pen but his tongue in what was thought to be a safe Senate race against Democrat Brad Carson. During an August town hall meeting, Mr. Coburn called the Oklahoma legislature "a bunch of crapheads" and said the problem with the Cherokees living in his former congressional district "is that most of them aren't Indians."
Mr. Coburn also remarked that "lesbianism is so rampant in some of the schools in southeast Oklahoma that they'll only let one girl go to the bathroom." He nevertheless won the election, 53 percent to 42 percent, and has become one of the leading conservative voices on Capitol Hill.
Aside from such fast and loose comments, off-color jokes thought to be told in private settings also have gotten politicians in hot water. Even Reagan became embroiled on the campaign trail in 1980 when he told a joke seen as offensive to Polish people, explaining that he had said it as an example of offensive humor that should not be used.
Likewise, Sen. Bob Kerrey of Nebraska was caught on a hot mic telling a joke at a fundraiser in 1991 involving Democratic rival Jerry Brown, who now is the governor of California, and two lesbians at a bar that apparently was so offensive that attendees were hesitant to repeat it afterward. (C-SPAN carried the event but did not release a tape, deeming it a private conversation.)
The recipient of the joke? President Clinton, then the governor of Arkansas.
"During a private conversation at a roast last weekend, there were a lot of inappropriate jokes being told and repeated," Mr. Kerrey wrote afterward. "I made a mistake in repeating one I shouldn't have."
In 1998, Sen. John McCain of Arizona made the following ill-advised joke at a GOP fundraiser: "Why is Chelsea Clinton so ugly? Because her father is Janet Reno." He later apologized.
Unlike Reagan, Mr. Kerrey and Mr. McCain, however, Texas businessman Clayton Williams Jr.'s crude attempt at humor was the effective end of his political career. During his unsuccessful gubernatorial run in 1990 against Democrat Ann Richards, he jokingly likened the weather to rape: "If it's inevitable, you might as well lie back and enjoy it."