Democrat Tim Kaine, who released his first television ad Tuesday, is targeting female audiences with fall advertising buys as he and Republican George Allen both try to woo the critical voting bloc in the closely watched Virginia Senate race.
While advertising during the race has largely come from outside groups thus far, fall airtime recently purchased by the Kaine campaign contains a significant amount during shows popular with female audiences.
According to a publicly accessible government website that receives campaign ad information from the top four major television networks, Mr. Kaine's campaign as of Monday had reported six contract agreements for fall airtime in the D.C. metro area since Aug. 2.
Many of Mr. Kaine's most recent buys appear to be during news broadcasts. A $133,000 ad buy from Oct. 1 to 7 in the D.C. area on NBC includes 72 spots, most slated to run during morning and afternoon news shows. Advertising costs depend on a variety of factors, including time of day, programming, length of the ad, date and media market. Five 30-second slots during the 6-to-7 a.m. news hour cost $1,800 a pop, while the campaign paid $2,700 apiece for six 30-second spaces during the 7-to-9 a.m. "Today" show that week.
NBC programming that tends to capture more female viewers got much of the rest of the Kaine ads. The campaign purchased two 30-second spaces during the 3-to-4 p.m. hour that week as well — one on Monday and one on Wednesday — when Ellen DeGeneres' syndicated talk show is broadcast. Other ad buys include a $4,000 spot during the prime-time comedy-drama "Parenthood" and a single $13,500 buy during the prime-time reality show "The Voice."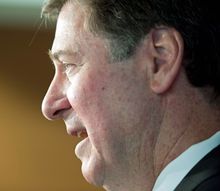 This year's season finale of "Parenthood" was rated ahead of all the other networks in its time period among adults 18 to 34 and all key female demographics. And while the NCAA Men's Basketball Championship unsurprisingly won the ratings battle on April 2, "The Voice" beat out ABC's "Dancing With the Stars" and basketball among women ages 18 to 49 that night.
Four spots totaling $2,800 are also slated for "The Tonight Show With Jay Leno."
Mr. Kaine's ads also will air during ABC shows that are popular among women. A $13,650 buy from WJLA, the region's ABC affiliate, from Oct. 8 to 14 includes spots during "Good Morning America Sunday," "The View," Katie Couric's new syndicated talk show, "Wheel of Fortune," and the prime-time drama "Revenge," which the network moved this fall from its Wednesday 10 p.m. spot to Sundays at 9 p.m. — a slot previously occupied by "Desperate Housewives."
The campaign is not just targeting female voters. A number of the fall buys also are slated for crime- and courtroom-based shows, popular with all adults. The campaign reserved $84,650 worth of ad time during nighttime CBS programming in the D.C. metro area from Oct. 1 to. 7, which includes $14,000 during "NCIS," $10,000 during "Criminal Minds," $3,000 during "CSI: New York" and $12,000 during "The Good Wife."
While voters soon will start seeing Mr. Kaine's ads on television, there's also the matter of filming them. In contrast to the deluge of negative attack ads from outside groups ranging from the Republican National Committee to the League of Conservation Voters, Mr. Kaine's first television ad in the race, unveiled Tuesday, stayed positive. It touched on bipartisanship, fiscal responsibility and his accomplishments as Virginia's governor.
"During the worst recession in decades, I worked with Virginia Republicans to cut Virginia's budget by $5 billion," he says in the 30-second ad (FactCheck.org puts the total at about $3.5 billion). "I cut my own pay to lead by example. We were fiscally responsible while advancing our most important priorities, like education."
Using its own TV rhetoric, Mr. Allen's campaign suggested Mr. Kaine was attempting an "extreme makeover."
"Tim Kaine isn't telling Virginians that his budget was called a 'shoddy little trick' that used one-time gimmicks," said Allen spokeswoman Emily Davis. "He isn't telling Virginians he has admitted making 'significant cuts' to higher education leading to 30 percent tuition increases. And Tim Kaine isn't telling Virginians that over 100,000 jobs were lost under his watch as he tried to raise taxes on Virginians making as little as $17,000 a year. Virginians can't afford for Tim Kaine to take his not 'particularly successful' governor record to Washington.".