MINERAL, Va. — For every resident, there's been an aftershock.
A year after a 5.8-magnitude earthquake shook the ground from North Carolina to New Jersey, this town of 471 at its epicenter continues to tremble.
Now the unofficial earthquake capital of the East Coast, in most other ways Mineral is a typical small town. It's the type of place where American flags hang in empty storefronts. A dot on a map near Charlottesville, it's a place where the town clerk doubles as a Department of Motor Vehicles agent on busy days and the high school football team is accompanied on the field on game nights by a lion named Bubba secured from a nearby menagerie.
Things changed for the town at 1:51 p.m. on Aug. 23, 2011, when an unlikely earthquake centered just a few miles away jolted the mid-Atlantic region, causing millions of dollars in damage to monuments and historical landmarks 100 miles away in the District.
That night, as Mineral residents and emergency officials surveyed the destruction, a 4.5-magnitude aftershock hit the area. It was among the first of more than 450 aftershocks through May — an average of just more than one every 15 hours. More have been felt since then, but official data from the U.S. Geological Survey runs only through late spring.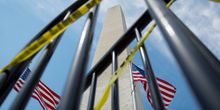 Robert A. Williams, a geophysicist for the survey, said about 300 aftershocks have been strong enough to be felt — especially at night.
Some nights, Mineral resident Deborah D. Pettit wakes up and hears the noise.
"You get to sleep and then around 1 a.m. or 2 a.m. you hear it, the sound of it, the rumble," she said. "You just hang on to the bed."
Despite the historic quake, no deaths and only minor injuries were reported, a "miracle" not lost on the school community, said Ms. Pettit, the superintendent of the school district, which lost an elementary school and a high school to quake damage. On the one-year anniversary Thursday, officials are going to focus on reflection and gratitude — and hold an earthquake drill.
"Drop, cover, get under something," Ms. Pettit said with a smile of familiarity.
"It is business as usual," she said. "It's our new normal and we take everything in stride."
Learn to live with them
With aftershocks a regular occurrence in Mineral, the only thing to do, locals say, is learn to live with them.
"We're the new California," said Nikki Lanning, an employee at the local Dollar General. Some mornings, the 29-year-old walks into the store to find a few things scattered on the floor from overnight aftershocks.
"There's nothing you can do about it but just clean it up," she said.