A classic superstar from the 1980s celebrates his 30th anniversary in reimagined style courtesy of Apple's magical tablet in Pitfall (Activision, reviewed with iPad 2, rated 9+, 99 cents).
After a clever opening recalling Pitfall Harry's pixilated, side-scrolling days on the Atari 2600, the game places the Indiana Jones-type explorer on the run from an exploding volcano in three-dimensional environments.
The updated game mechanics bow to the modern-day mobile gaming popularity of Temple Run, which means Harry is constantly sprinting while avoiding objects and creatures through a long-distance course marathon runners would admire.
At points in the action, he also barrels through paths on a motorcycle, in an out-of-control mine cart and atop an unstoppable jaguar (that's sweet my friends) as he twists and turns through brightly colored jungle- and cavern-style environments.
Controlling the junior tomb raider is simple using the iPad's touch screen. Swipe up to jump, swipe down to slide, swipe either way to turn (or use the device's motion control), and tap to attack rattlesnakes, scorpions and alligators with his whip.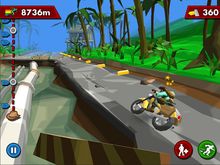 A player is forever in search of a save point — designated by a macaw dropping a token in his stash — as he runs into stuff often. Use that token and the bird swoops in to grab Harry and drop him in the obstacle course, usually on a collapsing bridge or other perilous piece of terrain.
Additionally, as he accumulates meters on the run, he levels up and is given diamonds that can be used to buy already-passed checkpoints along the course, preventing him from continually starting at the beginning of the game.
Unfortunately, those diamonds are in short supply and the economical title can lose its charm quickly as it costs more cash through the dreaded in-app purchase to buy the precious gems.
Harry also runs through and collects metallic bars on his jaunts that can be used to increase his powers (such as life tonic to protect him longer) or new costumes (the ballerina garb is an outrage, but the ninja and pirate looks pretty nice).
Moments to savor include swinging over pits, avoiding spiked booby traps, diving under collapsing statues, sliding around corners, and somersaulting over flaming lava all in a cell-shaded animation style that reminded me of a paint-by-number illustration.
The only drawback to the action is the game's difficulty, which will require the player's utmost concentration. What's appreciated is that courses are packed with enough randomized elements and optional paths that runs never feel the same.
I've never enjoyed retro gaming, so Pitfall was a pleasant surprise. It's certainly worth the price and takes a casual gamer on a nonstop, harrowing adventure.