If Robert Griffin III leads the Washington Redskins on a drive that ends at the opposing 30-yard-line or so Saturday against the Indianapolis Colts, it won't at all be a lost cause. That might be doing his team a favor.
This is the preseason and the Redskins are in the midst of a kicking competition between incumbent Graham Gano and veteran challenger Neil Rackers. The problem is, through the first two games, there have only been two field goal attempts.
"We're switching off kicks. Mine have mostly been field goal attempts and Graham's have all been PATs," said Rackers, who hit from 28 yards and missed from 54 last week at Chicago. "It's unique, and it's hard when you're not getting a lot of field goal attempts to take a look at guys."
Because of a lack of chances, the kicking competition hasn't developed much so far. Both men are hoping to get more than just practice reps and kickoffs to prove themselves.
"I think practice is going to play a big part in their decision," Gano said. "But the games are, I think, the bigger role, and I'm sure the next two games I'll get some field goal opportunities and they'll figure it out by the end."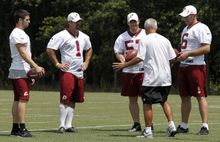 Rackers' miss from 54 yards against the Bears was a blown opportunity when it was looking like he could take at least a slight lead in the competition. The 36-year-old admitted being "disappointed" but wasn't kicking himself.
"It's disappointing to not have the ball go through the uprights, but at the same time I hit kicks from there and further out at halftime and that ball broke right down the middle," he said. "If you hit it where you're aiming, I guess you could call that a mental error. But it's part of being a kicker at times."
In a situation like this, Gano gains something of an advantage with Rackers' miss, but it's the odd quandary of wanting to win, wanting a friend to succeed and wanting to win a job.
"We want to win games, but I try not to really focus on what's happening with Neil. I just try to control what I can do, and I feel like I did well the first couple games," Gano said. "I put my kicks where they were supposed to be on kickoffs, and my extra points looked good. So hopefully I just keep doing well and we'll just see how it goes from there."
Rackers said earlier this week he's feeling good about how he's hitting the ball and how things are progressing.
"It's go do your job and they'll tell you who they like at the end of camp," he said. "That's the only way Graham and I can both look at it. You're not kicking against the other guy; you're doing what you do best and they'll tell you who they want at the end."
One day recently (when reporters were permitted to watch the entire practice), Rackers went 9-for-9 while Gano went 5-for-9. They'll be days like that, and Gano knows that.
"I've been here long enough; the coaches know what I can do," he said. "I kind of just forgot about it. It was frustrating at the time, but you bounce back and the next day I went 5-for-5. It's just something you have to forget about and move on."
Just like Rackers had to move on from his miss at Soldier Field. It's a difficult balance trying to capitalize on opportunities without lamenting missed ones, but the veteran won't be hoping Gano misses if he gets a chance back at FedEx Field on Saturday.
"I'm a firm believer in karma. I've never rooted against another kicker," he said. "I enjoy Graham and he's very good at what he does. He'll be successful and I root for him to be so."