PHILADELPHIA — Six innings had passed the Washington Nationals by Saturday night when Ryan Zimmerman looked up at the scoreboard to see Roy Halladay's pitch count. What he saw was confirmation of what he and the rest of the Nationals had felt in the batter's box all night. Halladay was throwing nothing but strikes.
This was the Halladay the Nationals have come to know and loathe facing over the past three seasons. This was the Halladay whose pitches move so much they can remain in the zone and still baffle hitters.
And this was his statement. The Nationals' 4-2 loss at Citizens Bank Park was the latest reminder that while they have become the class of the National League East and the owners of the best record in baseball, 77-49, there are still plenty of reasons why the Philadelphia Phillies were so good for so long.
"I don't think any of us are just going to roll over and give them the division," said Halladay, who held the Nationals to two runs off seven hits over seven innings and threw just 19 balls in 105 pitches.
"We want to make a little bit of a statement. We still want to play. We still want to compete. We're just not going to give anything away. … They're going to be good for a while. It's important for us to play well against them even in a season that hasn't gone the way we wanted."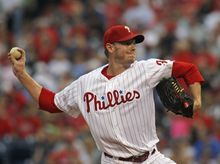 The Nationals' loss narrowed their division lead over the Atlanta Braves to 5 ½ games. The Phillies, long since figuratively erased from the divisional conversation, are 18 ½ games behind.
But this was the Nationals' second straight series loss to Philadelphia and the first time they'd lost three straight since July 19-21. In between the losing streaks, with the benefit of having the best pitching staff in the major leagues, they went 24-7.
"We've got Jordan [Zimmermann] on the mound tomorrow," said lefty Gio Gonzalez, who allowed three earned runs in six innings, when asked how the Nationals could end their skid.
"Firing the guys out there that we do, you're not going to consistently lose with those five guys going out there," said first baseman Adam LaRoche.
So even as they muttered to themselves on their way back to the dugout, even as the frustration built to the point where usually sure-handed reliever Sean Burnett — who gave up an important insurance run in the ninth after Chase Utley stole second and third on him — slammed his right fist into his locker, the panic levels barely registered.
"Ugh, we're ready to quit," third baseman Ryan Zimmerman said with heavy sarcasm when asked about the three-game losing skid. "Everything's going to go into shambles."
"No," Zimmerman continued more seriously. "We've been able to avoid long losing streaks because our pitching's been so good. The last two games we just ran into guys who threw the ball as well as ours. They got one or two big hits and we didn't. People forget that's a good team over there. … We have our work cut out for us, but as far as a losing streak, I don't think anyone in here is panicking just yet. We'll be ok."
On this night, with Halladay and the Phillies' bullpen holding the Nationals to just three hits outside of their run-producing fifth, the costly mistakes were Gonzalez's and Burnett's to make.
For Gonzalez, it was less about the rocky first inning that featured four Phillies hits and two runs, and more about a first-pitch home run by John Mayberry to leadoff the sixth. It was one pitch that erased the work of the offense, which had finally mounted a rally off Halladay by scoring twice in the fifth on a bases-loaded single by Steve Lombardozzi.
For Burnett, it was hitting Utley, and then experiencing his stolen base-laden trip around the bases to score easily on a sac fly.