Robert Griffin III knelt near the 20-yard line after Santana Moss surged into the end zone Saturday afternoon. The Washington Redskins' new franchise quarterback had thrown a touchdown in front of the home fans for the first time. It was time to celebrate.
Griffin singled out Trent Williams, his 325-pound left tackle, ran up to him and jumped, and they bumped shoulders. It was a bit of flair on top of a substantive performance by Griffin in his final playing time of the preseason.
He helped Washington's starters outscore the Indianapolis Colts' first string en route to a 30-17 victory at FedEx Field. The Redskins led 14-7 when Griffin and the first-string offense exited the game in the third quarter and turned their attention to the season opener against the New Orleans Saints on Sept. 9.
"You're always preparing to make sure you're ready, but I thought we had a good performance overall as an offense today," Griffin said. "If we're going to finish it with this performance, I think that was a great way to finish it."
Coach Mike Shanahan plans on sitting his starters in Wednesday's preseason finale against Tampa Bay. This, then, was Griffin's final dress rehearsal for his NFL debut.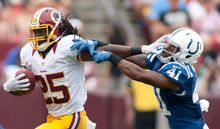 He completed 11 of 17 passes for 74 yards and a touchdown; good for a 93.8 passer rating.
The results were sufficiently mixed for Griffin to feel good about his performance and move forward with concrete areas that require improvement. The positives included a 4-yard touchdown to Moss and third-down conversions with his arm and legs. The negatives included three incomplete deep balls.
"He looked a lot more comfortable," Shanahan said. "I think with every game he will feel more comfortable. I thought we had a chance for a couple big plays that we just missed, which is always disappointing. We were right there, just a hair away."
In a game billed as a matchup between Colts quarterback Andrew Luck, the No. 1 overall draft pick, and the second pick, Griffin, Redskins sixth-round rookie running back Alfred Morris made the greatest impression.
Morris had 107 yards and a touchdown on only 14 carries. He appears to have solidified a roster spot, especially considering the injuries plaguing the Redskins' three incumbent running backs.
"Today was just an all-around game," Morris said. "I was able to run. I still got a screen pass, and I was able to get involved in pass protection. It was definitely a good game to show the coaches I can do this."
Luck played the first half and finished 14-of-23 passing for 151 yards and a touchdown. He showed why Indianapolis preferred him over Griffin with exceptional poise in the pocket and a great feel for the pass rush.
On his 31-yard touchdown pass to T.Y. Hilton in the second quarter, he stepped up in the pocket to avoid a defender and placed a perfect deep throw over safety Madieu Williams in the back left corner of the end zone.
"He has the potential to be a great quarterback," Redskins linebacker London Fletcher said. "He made some plays out there on third down situations moving around in the pocket. He can make all the throws, has a lot of great poise, athleticism. You could see why Indy is excited about him."
Griffin flashed separately. He escaped pressure up the middle on third-and-5 on the first series and ran around the right edge for a first down, barely getting to the marker at the sideline.