TAMPA, Fla. — Republicans launched Mitt Romney's national convention Monday with the bang of a gavel before a smattering of delegates as Tropical Storm Isaac led them to cancel most of the opening-day program.
Party Chairman Reince Priebus called the gathering to order, citing convention rules requiring a 2 p.m. Monday start, and then immediately recessed the session. It took less than two minutes.
Priebus then instructed delegates to look up at two "debt clocks" — one that reflects the actual national debt and a second that counts how much the debt will grow during the convention. It was quickly in six figures.
The convention will hit full speed on Tuesday, just as forecasters say the storm could reach hurricane strength and make landfall somewhere between Mississippi and New Orleans.
"Our sons are already in Tampa and they say it's terrific there, a lot of great friends. And we're looking forward to a great convention," Romney said Monday outside a New Hampshire high school auditorium where he rehearsed his convention speech.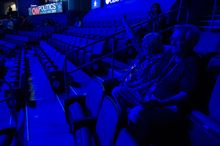 He said he hoped those in the storm's path would be "spared any major destruction" but indicated there were no thoughts of canceling the convention in Tampa, where Isaac's heavy rain had all but passed.
Tom Del Beccaro, a California delegate and chair of the state GOP, predicted the one-day delay in full convention events would supercharge the rest of the week's meeting.
"I think there's going to be a lot of bottled up energy, and I think that's going to show," he said.
But Sally Bradshaw, a Florida Republican and longtime senior aide to former Florida Gov. Jeb Bush, was not so sanguine. "It's a mess all around and it's fraught with risk," she said. "It's not good for anybody — particularly the people impacted by the storm."
It was hardly the opening splash that convention planners had hoped for, and it risked the juxtaposition of Republicans partying as the storm barrels toward land — almost exactly seven years after Hurricane Katrina devastated New Orleans.
Priebus was long gone from the podium when a handful of Ron Paul supporters hollered their support for the defeated presidential contender in a brief impromptu gathering at the rear of the convention hall.
They held up placards bearing Paul's name in front of a permanent sign that read, "We Can Do Better." The sign was there for Romney's purposes — meant to show that he could fix the economy — but Paul's backers appropriated it for their own use.
Paul's delegates are trying to mount a floor fight over new GOP rules designed to limit the ability of insurgent presidential candidates to amass delegates to future Republican conventions. It was unclear whether they could rally enough support to force a vote.
Outside the arena, the storm and a massive police presence limited protests, with only a fraction of the 5,000 expected demonstrators turning out to criticize the GOP's economic and social policies.
Due to the storm, the party hastily rewrote its convention script to present the extravaganza's prime rituals and headline speakers later in the week, and further changes were possible. Planners said Monday's speakers would be worked into the schedule later in the week.