BATON ROUGE, La. — Republican elected officials from Louisiana and Mississippi scrapped Florida travel plans for the GOP's national convention, while some who had arrived in Tampa quickly turned around Monday and headed home to wait for the expected hurricane.
Louisiana Gov. Bobby Jindal said he won't attend the three-day convention because of Tropical Storm Isaac, canceling his speech that had been scheduled for Wednesday night.
"I will not be speaking (at) or attending the Republican convention in Florida. There is no time for politics here in Louisiana," Jindal said Monday at a news conference about storm preparations.
It was the second time Jindal has been sidetracked from his party's convention because of a storm. Hurricane Gustav kept him away in 2008, in his first year of office. Isaac was forecast to strengthen to a hurricane before striking the Gulf Coast.
"After the storm is over, after we've gotten back on our feet, there will be plenty of time to talk about politics," Jindal said.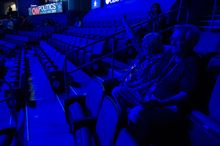 In neighboring Mississippi, Gov. Phil Bryant delayed his travel and said he planned to be on the Gulf coast Tuesday night through Wednesday, leaving open the possibility he could attend the final day of the event.
"The governor's main concern is the safety of the people of Mississippi," Mick Bullock, a Bryant spokesman, said in a statement.
The executive director of the Republican Party of Louisiana, Jason Dore, estimated about 20 percent of the state's delegation either returned home or didn't make it to Florida at all. Most were elected officials. Louisiana had more than enough alternates to fill out its 46-delegate slate, he said.
Among those who made it to Tampa, only to turn around Monday when the storm set its sights directly on Louisiana were Agriculture Commissioner Mike Strain, Secretary of State Tom Schedler and U.S. Rep. Rodney Alexander, according to their offices.
"It was a very short trip," Strain spokeswoman Veronica Mosgrove said.
Louisiana's Lt. Gov. Jay Dardenne shelved his convention plans. Mississippi Insurance Commissioner Mike Chaney and Secretary of State Delbert Hosemann, who were among of Mississippi's 40 delegates, scrapped plans to go as well.
"Our statutory duties and responsibilities to Mississippians come first. Everything else blew out the window when Isaac targeted us," Hosemann said in a statement.
Isaac didn't bring everyone back home, however. U.S. Rep. Steve Scalise, who represents much of suburban New Orleans, remained in Florida.
Scalise spokesman Stephen Bell said the congressman was monitoring the storm and staying in touch with local officials.
"Keep looking at it, keep watching it, that's what he's going to do," Bell said.