Robin Roberts said Friday will be her last day co-anchoring "Good Morning America" for a while.
On Monday's edition of the ABC News program, Ms. Roberts made official the start date for what's being called her "extended medical leave."
Ms. Roberts told viewers in July that she has MDS, a blood and bone-marrow disease once known as preleukemia.
She said she will be hospitalized next week to prepare for the bone-marrow transplant that will take place about 10 days after that.
Looking further ahead, Ms. Roberts noted she is luckier than many workers who become ill. She said her bosses have been generous in giving her the needed time off, and her job will be waiting for her when she's well enough to return. She described herself as "very blessed."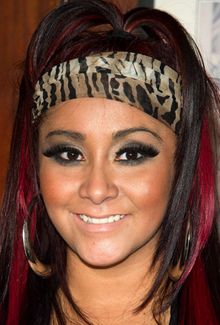 'Jersey Shore's' Snooki gives birth to baby boy
"Jersey Shore" star Nicole "Snooki" Polizzi gave birth early Sunday to her first child, a boy.
The reality TV star and her fiance, Jionni LaValle, welcomed 6-pound, 5-ounce Lorenzo Dominic LaValle into the world just before 3 a.m. Sunday at St. Barnabas Medical Center in Livingston, N.J., MTV said.
"The world just got another Guido!!!," a representative for Miss Polizzi told MTV. "Nicole, Jionni & Enzo are doing great!"
MTV congratulated Miss Polizzi and her fiance and looked toward the newborn's possible appearance on "Jersey Shore."
"We couldn't be happier for Nicole and Jionni on the healthy delivery of their baby boy!," MTV said in a statement. "We look forward to Lorenzo's first trip to the Jersey Shore and can't wait to see his first animal print onesie."
MTV has said it's bringing "Jersey Shore" back for a sixth season, with the 24-year-old Miss Polizzi as part of the action, but has declined to offer specifics on how big a part she will play in the show about hard-partying Italian-American friends.
ABC Family orders pilot from J.Lo's company
ABC Family said it has greenlighted a series pilot from Jennifer Lopez's production company about a lesbian couple and their diverse family.
ABC Family said Thursday the comedy-drama pilot, titled "The Fosters," is about two women raising a "21st century," multiethnic mix of foster and biological children.