TAMPA, Fla. — Republicans have been scrambling to reach out to women in the run-up to November, but that's not immediately evident from the lineup of entertainment at their convention here this week.
Of the dozens of artists scheduled to perform, only a handful are female. One of them is country singer Sara Evans, while another is Ayla Brown — daughter of Massachusetts Sen. Scott P. Brown and a one-time semifinalist on "American Idol."
But after being criticized for being too country music heavy at their 2008 convention, GOP organizers put together a more diverse lineup this year, with a few leading pop artists and rock bands joining the Southern music performers.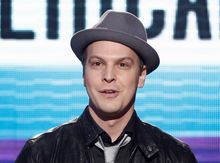 Grammy-winning band 3 Doors Down kicked things off Tuesday, premiering their newest hit, "One Light." Pop artist Gavin DeGraw and the band Journey will also make appearances at invitation-only events throughout the week.
Performers ranging from tenor Philip Alongi to "American Idol" winner Taylor Hicks to gospel singer BeBe Winans will take the stage at various points.
And country star Trace Adkins and rock star Kid Rock are scheduled to perform at Freedom Plaza, a makeshift concert stage organizers have put together, while blues guitarist Jimmie Vaughan, brother of the late Stevie Ray Vaughan, played at a rally for supporters of Rep. Ron Paul on Sunday.
Southern rock band Lynyrd Skynyrd was scheduled to perform Sunday and Monday, but was canceled along with many other convention events because of Isaac, the tropical storm-turned-hurricane that was brewing off the Florida coast. The band has performed at the party's national convention twice before, and lead singer Johnny Van Zant has endorsed GOP nominee Mitt Romney.
Meanwhile, Jon Voight, an Academy Award winning actor and father of actress Angelina Jolie, was spotted walking around the convention Tuesday.
One of Mr. Romney's biggest fans this year is Beau Davidson, a 31-year-old Nashville-based recording artist who will perform his song "Blessed" Wednesday evening, slotted between speeches by Senate Minority Leader Mitch McConnell and Arizona Sen. John McCain, he told The Washington Times.
"I want the song to be the musical undertone of the overall campaign," Mr. Davidson said. "I think if the song can be sort of the musical heartbeat to that, that would be wonderful."
Mr. Romney has managed to steal some of the president's celebrity supporters from four years ago — including an endorsement from Kiss frontman Gene Simmons, who said he regrets backing the president last time, and supermodel Cindy Crawford, who hasn't officially endorsed Mr. Romney, but appeared in a video used by his campaign.
And comedian Jeff Foxworthy, who had never before endorsed a political candidate, announced he's supporting Mr. Romney because this election is "too important."
"Hollywood is not immune to how the rest of the country is doing," said Robin Bronk, chief executive of the Creative Coalition, an arts advocacy organization. "It's not the same level of excitement it was four years ago. … Whether you're Hollywood or Reston, Virginia, unfortunately we're all affected by this economy."