TAMPA, Fla. — Texas Rep. Ron Paul, a libertarian hero, finally got his moment at the Republican National Convention in a video tribute Wednesday as his son Rand styled himself as an outsider who works inside the system — not necessarily the standard-bearer the rabid devotees of his father seek.
After he hosted a rally for his own supporters on Sunday, Republicans repaid Ron Paul with testimonials from prominent members of the party, including South Carolina Sen. and conservative rainmaker Jim DeMint, in a video early in Wednesday evening's proceedings.
"I've always put politicians into two categories — they're either here to make a point, or they're here to make a difference," Senate Minority Leader Mitch McConnell said in the video. "Ron Paul is the only one I know who made a difference by making a point."
Rand Paul noted in the video that lobbyists don't even bother to stop by his father's office, because they know "he can't be bought."
The younger Paul used the beginning of his speech to rail against the "travesty of justice" that he said is President Obama's health care overhaul.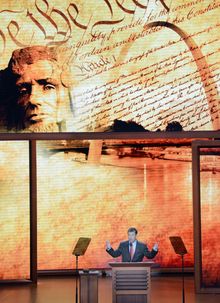 "I've had time to count to 10, and you know what? I still think it's unconstitutional!" Mr. Paul shouted. "The whole damn thing is still unconstitutional."
Rand Paul, though, called out both parties in his speech, saying that Republicans must acknowledge that every dollar that goes to defense is not necessarily well spent, and Democrats must accept the fact that changes to federal entitlement programs are necessary.
At the same time, Mr. McConnell has become a strong supporter of the first-term senator. But as the chamber's minority leader, he embodies what Ron Paul's supporters would describe as the party establishment.
While the elder Paul broke through legislatively last month when the House of Representatives passed a bill to shed some sunlight on the proceedings of the Federal Reserve — a measure he has long championed — the future of Rand Paul has yet to be written, said Carl Tobias, a professor at the University of Richmond School of Law.
"It's going to be even harder to make your mark in the Senate, and we don't have as much of a track record for Rand Paul," he said. "The tea party might not necessarily be acquainted with Rand Paul or his father's brand of libertarianism. He could carry it on by the name, and it may not necessarily be relevant if he's successful in the Senate."
He has sponsored many pieces of legislation that would make his father proud — one that would remove the extension of the sunset date on a provision in the Patriot Act and another declaring that President Obama exceeded his War Powers authority when he authorized last year's military engagement in Libya. But in the historically sluggish Senate and intense gridlock on Capitol Hill, his bills have not gotten far.
He has also shown more of a willingness to work within the party confines more so than his father in certain instances. For example, he angered many supporters when he endorsed Mitt Romney earlier this year while the elder Paul was still technically a candidate in the race.
Blasé Harris, a doctor from Hawaii, said that he has come to think of the younger Mr. Paul as the "Benedict Arnold" of the liberty movement.
"Rand Paul is opposed to the National Defense Act and now he is supporting a presidential candidate who is favor of it, which is the equivalent of the Nazi 'night and fog' decree, where they can come take you away into the night and fog and you disappear as long as you want they too without a lawyer, and they will let you out when they want to and if they want to," Mr. Harris, 61, said.
Joe Palmer, 36, of Fort Worth, Tex., said he understood the politics of the move, but that the party is "kicking his dad to the curb" and that Paul supporters are not going to go lockstep behind Mr. Romney.