As she kicked off the U.S. leg of her "MDNA Tour" in Philadelphia, Madonna said she was happy to party in the U.S. after touring Europe for three months.
The pop icon told the crowd Tuesday night they should "never forget how lucky you are to live where you live and to have the freedom that you have." She made the comments after talking about the arrest of three members of the punk-rock female band Pussy Riot. The women were sentenced to two years in prison after performing a "punk prayer" at Moscow's Christ the Savior cathedral in which they called on the Virgin Mary to deliver Russia from its leader, Vladimir Putin.
"In my travels around the world, the one thing I truly witnessed is we in America have freedom of speech, freedom of expression," the singer said.
Madonna, who toured most of Europe from June to August, has called for the Pussy Riot members to be freed. Paul McCartney and Peter Gabriel also have spoken in the women's favor.
Russian activists recently sued Madonna for millions of dollars, claiming they were offended by her support for gay rights during her show in St. Petersburg. A law passed in February makes it illegal to promote homosexuality to minors, and the author of that law has pointed to the presence of children as young as 12 at Madonna's concert on Aug. 9.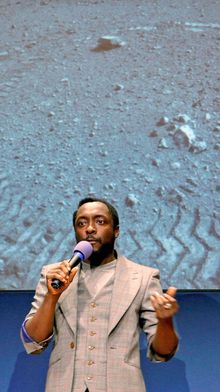 Madonna kicked off her concert late Tuesday, apologizing to the crowd, who began to boo before she hit the stage at about 10:30 p.m.
"We had many changes to make from Europe to America, and I wanted the show to be perfect for you because my fans deserve it and, quite frankly, I deserve it," she said.
Illness forces Duran Duran to cancel rest of tour
Duran Duran is canceling several concerts because of the illness of keyboard player Nick Rhodes.
The band already had called off concerts in the past week in Pittsburgh; in Kettering, Ohio; outside Chicago; and in Atlantic City, N.J.
The band had hoped to reschedule some of the shows, but decided to cancel the final half-dozen shows on its North American tour. That includes the four U.S. concerts and two shows in Orillia, Ontario.
The band has said Mr. Rhodes is suffering from exhaustion or a possible viral infection.
According to the band's website, "Nick held out all week, hoping that he would be well enough to perform again for these final few shows, but unfortunately the medical advice he has been given today requires him to continue to rest."
Will.i.am's new single has out-of-this-world premiere
Will.i.am has premiered his new single — from Mars.