CHARLOTTE, N.C. — When all is said and done, perhaps it was destiny that Charlotte host the Democratic National Convention — and that its choice be controversial.
After all, the city and surrounding county of Mecklenburg are the main players in one of North Carolina's great historic controversies: whether a document known as the Mecklenburg Declaration of Independence was signed here more than a year before that other Declaration of Independence (the one drafted by Thomas Jefferson) showed up in 1776.
The Mecklenburg Declaration wasn't published until 1819, but the date of its supposed signing, May 20, 1775, is printed on the North Carolina state flag, even though most historians no longer think the document ever existed.
"Although it's a point of pride in Charlotte, most North Carolina historians follow the line that it was not an authentic document," said Mike Hill, research branch supervisor at the North Carolina Office of Archives History. "The last copies are said to have burned in a fire in the early 19th century. Its mentions in history books are based on the memories of aging men."
Controversy aside, delegates in town for the convention, which begins Monday, will find several places in and around Charlotte where they can soak up a little political history. Whether or not you believe the Mecklenburg lore, most out-of-towners do make a stop in the place named for the declaration: Independence Square, now the center of the city's financial district, at the intersection of Trade and Tryon streets.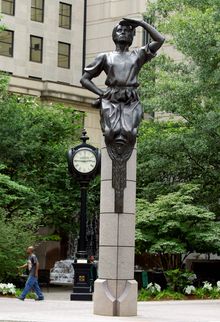 The square is home to four sculptures representing transportation, labor, business and the future, and a look up at the surrounding skyscrapers shows "the significance of Charlotte as a banking and business center," said Robert Anthony, curator of the North Carolina collection at the University of North Carolina. Charlotte is the nation's second-largest banking center after New York.
Republicans have enjoyed watching Democrats squirm over the choice of Charlotte, the largest city in a state with high unemployment and an unpopular Democratic governor who's not seeking a second term. Even some typical Democratic supporters, including unions, weren't happy with the selection of a city in a right-to-work state.
But residents have long shaken off insults, so perhaps their skin is thick enough to take whatever potshots come their way. In 1986, architecture critic Robert A.M. Stern called Charlotte "the ugliest collection of third-rate buildings in America." And as far back as 1791, President George Washington called Charlotte a "trifling place" after staying overnight at an inn on South Tryon Street.
A few years later, in 1795, the nation's 11th president-to-be, James K. Polk, was born on a 150-acre farm south of Charlotte in nearby Pineville, and delegates with an interest in history can visit the site today. Polk lived there until 1806, when his family moved to Tennessee.
Later, he returned to his home state and graduated in 1818 from the University of North Carolina. The president's grand uncle, Thomas, was one of Charlotte's early settlers and a general in the Revolutionary War. He built his home where Independence Square is now located, and a nearby park is named for him.
Political junkies will find a connection to another president at the Duke Mansion, also known as White Oaks, a historic 20-room bed-and-breakfast that was once the private mansion of industrialist James B. Duke, Doris Duke's father.
Here in 1940, Frances Ann Cannon, daughter of a family that made its fortune in textiles, married John Hersey, future author of "Hiroshima." Guests included John F. Kennedy, who was about to graduate from Harvard. He had dated Cannon for a year, but he was Catholic, and she was Protestant. Her parents ended the relationship by sending her on a world tour.
Delegates looking to sneak away from the convention speeches long enough to sample some Southern food might start with Price's Fried Chicken Coop, where former Charlotte Observer reporter and amateur historian Lew Powell says the only thing that's changed since 1962 is a sign advising customers to turn off their cellphones.
But be careful if you're an out-of-towner asking where to get good barbecue. Purists were outraged when Michelle Obama mentioned barbecue as one of Charlotte's virtues. After all, aficionados know good barbecue must be cooked outside over wood, and you can't do that in the big city.
Despite the kerfuffle, Tom Hanchett of the Levine Museum of the New South said the city does have a few good places, including Midwood Smokehouse and Mac's Speed Shop (barbecue in a biker bar).