If ever there was an old-school comestible with a fat chance at trendiness, lard would seem to be it. The name alone is enough to conjure up a frisson of dismay. Nonetheless, lard appears poised to make a comeback.
Chefs have been championing lard for some time — some home cooks never gave it up — and high-quality versions of the fat have become available from artisan producers. Meanwhile, the people behind Grit magazine have written the book on lard, to wit: "Lard: The Lost Art of Cooking with Your Grandmother's Secret Ingredient."
The book, "really came out of one of those crazy, fun, brainstorming sessions," said Hank Will, editor-in-chief of Grit, which is based in Topeka, Kan., and focuses on American rural life.
Editors were looking for a way to use their huge recipe database and got to talking about how animal fats, particularly those that aren't highly processed, are making a comeback as research has switched the focus to trans fats as the bane of healthy eating.
The result is 150 recipes gathered from more than 100 years of the magazine, including biscuits, fried chicken, pie crust and flour tortillas.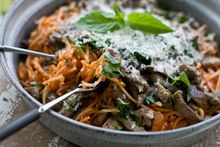 For San Francisco chef Chris Cosentino, executive chef at Incanto restaurant and known for his nose-to-tail cooking, lard is a natural byproduct of his whole-animal approach. "When we're getting a very beautiful hog, we try to use every bit of it," he said. "I think to do so is just the right thing."
Neither Mr. Cosentino nor Mr. Will advocates eating huge amounts of lard; it is, after all, fat. But Mr. Will noted that it has less saturated fat than butter and is unequaled for foods such as flaky pastry. "It's like any fat — you don't want it to be a huge proportion of your diet, but there's nothing wrong in getting at least part of your fat dose in lard."
Not all lard is created equal, said Mr. Will, who recommended reading the fine print on the package to make sure you're getting lard that hasn't been heavily processed, i.e. bleached, deodorized and hydrogenated.
The best lard comes from old-fashioned breeds of pigs prized for their fat — as opposed to the modern, leaner animals — and part of the lard resurgence has stemmed from small producers raising heritage breeds.
In the kitchen, lard has "hundreds of applications," Mr. Cosentino said. "It's great for breakfast cooking. Lard's good in pastries, in dessert." He also has some surprising uses for it, including ice cream and popcorn. "Cooking popcorn in pork fat is amazing," he said.
ROCKY MOUNTAIN GREEN BEANS
Start to finish: 20 minutes
Servings: 6
2 cups fresh green beans
3 tablespoons lard