LUTHER, Okla. (AP) — Several wildfires raging around the parched Oklahoma landscape prompted more evacuations Sunday as emergency workers sought to shelter those forced out by flames that destroyed dozens of homes and threatened others in the drought-stricken region.
One roaring fire near Luther, about 25 miles northeast of Oklahoma City, destroyed nearly five dozen homes and other buildings before firefighters gained a measure of control Saturday. Authorities said several state roads remained closed early Sunday because of drifting smoke or nearby fires.
Mike Donegan, a communications supervisor with the Oklahoma State Highway Patrol in the scorched region, said evacuations continued overnight. He had no immediate details on the numbers forced from their homes but said officers went door to door in some communities, getting people to leave.
He said he saw thick smoke from a distance of about 50 miles from one of the fires as he drove into work.
"When I came in today … we got ash falling even where I live. I thought it was raining at first. The smoke was thick," Donegan told the Associated Press by phone.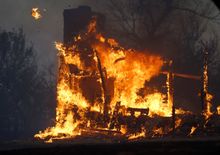 The Luther fire was one of at least 10 burning Saturday in Oklahoma, where a severe drought has settled on the countryside in a summer in which temperatures have topped 110 degrees in spots.
The fires include a large one in Creek County, in northeastern Oklahoma, that officials said had claimed about 78 square miles, and another about 35 miles to the west in Payne County.
Emergency management officials ordered residents of Mannford, in Creek County; Glencoe, in Payne County; Drumright, in Lincoln County; Oak Grove, in Pawnee County; and Quinton, in Pittsburg County, to leave their homes, according to Oklahoma Department of Emergency Management spokeswoman Keli Cain.
Police in Mannford and Glencoe told the Tulsa World on Sunday morning those evacuations had been lifted without any homes in the city limits being lost. Pittsburg County Sheriff Joel Kerns said no homes in his county had burned, either.
Cain said Saturday that no serious injuries had been reported.
Authorities suspect the fire near Luther may have been intentionally set, while the cause of the others was undetermined. The Oklahoma County sheriff's department said it was looking for someone in a black pickup truck seen throwing newspapers out a window after setting them ablaze.
Department spokeswoman Mary Myers said there were "no arrests, no suspects" but deputies were "working around the clock" to find anyone responsible.
Nigel Holderby, a spokeswoman for the American Red Cross, inspected one shelter set up in Cushing, northeast of Oklahoma City. She reported about 50 people sought refuge there overnight.
"We do have several shelter operations in full swing," she said early Sunday. "We are providing food and water and we are also making sure the firefighters are hydrated and feeding them."
Though the fires are scattered across the region, she said a largely volunteer effort has been able to respond and several shelters have been set up.