MIAMI — The historic but empty federal courthouse in downtown Miami is a costly symbol of the government's sluggishness at selling or finding new purposes for some 14,000 vacant or underused properties nationwide, Republican lawmakers said at a House panel hearing Monday.
"Unfortunately, this will be a pattern from sea to shining sea," said Rep. John L. Mica, Florida Republican, who chairs the House Transportation and Infrastructure Committee. "It's very frustrating."
Mr. Mica and fellow Republican Reps. Jeff Denham of California and Mario Diaz-Balart of Florida held the fourth in a series of subcommittee hearings into federal property management practices. The hearing was held inside the David W. Dyer Federal Building and U.S. Courthouse, which has been vacant four years since a new courthouse opened across the street.
The courthouse is owned by the General Services Administration, which said it has only about 124 excess properties on the government-wide list of 14,000 cited by Mr. Mica.
The property hearings, which continue Aug. 17 at the Los Angeles federal court complex, follow several previous GSA scandals that spotlighted costly staff conferences and payment of exorbitant bonuses to agency officials.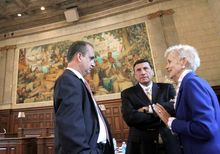 Opened in 1933, the 166,577-square-foot Dyer building is on the National Register of Historic Places. But it has been deteriorating for years and has an extensive mold problem in South Florida's hot and humid climate. Still, maintaining the vacant structure costs taxpayers about $1.2 million a year, Mr. Mica said.
Among many other cases, the main courtroom where Monday's hearing was held was the site of the 1992 drug and racketeering conviction of former Panamanian strongman Manuel Noriega and the 1973-74 tax evasion trial of mobster Meyer Lansky, who was acquitted.
Last week, just as the hearing was announced, GSA said it filed a "Request for Information" asking Miami developers and the business community for suggestions on what to do with the Dyer building.
"It seems the GSA only takes action when we hold hearings," Mr. Denham said.
John Smith, a regional commissioner for GSA's Public Buildings Service, said the original plan was to move other federal offices into the Dyer building but an estimated $60 million renovation cost halted that plan. Under the new proposal, if new tenants moved in it would still likely cost at least $10 million to separate the Dyer building from other judicial offices in the downtown complex.
"We're looking at any and all possibilities," Mr. Smith told the panel.
Mr. Smith added that 34 GSA real estate assets in the Southeast region have been disposed of in the past 10 years, generating about $24 million. One of those was a federal courthouse in Jackson, Miss., that was sold last August for $1.4 million to be remade into an arts institute.