Competition in the decathlon begins Wednesday at the London Olympics. This time around, Dan O'Brien doesn't mind being a spectator.
O'Brien won gold in the Atlanta Games in 1996 and with the triumph, laid claim to the title of world's greatest athlete. Sixteen years later, O'Brien will watch with interest and lend his expertise as a commentator for Yahoo Sports, and no doubt remember some of the best and some of the worst moments of his career as a decathlete.
He got some reminders of that earlier this summer in Eugene, Ore., at the U.S. track and field trials. Now 46, looking as athletic as he did when he won Olympic gold, O'Brien went to the trials to commemorate the 100th anniversary of the inclusion of the decathlon in the modern Olympics.
Also there were past decathlon champions Bill Toomey, Milt Campbell, Rafer Johnson and Bruce Jenner, along with Great Britain's greatest decathlete, Daley Thompson.
"My hero was Jackie Joyner-Kersee," O'Brien said. "I wanted to be just like Jackie, and Carl Lewis, of course. But there came a point in my life when I said, 'I'm not going to be the next Carl Lewis, I'm not going to be the next Jackie, but if I work hard, I could be the next Bruce Jenner.'"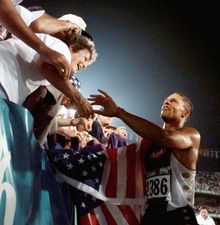 It was a revelation that came to O'Brien the first time he met the decathlon gold medalists back in 1988.
Now, he is among them.
Dave Johnson, O'Brien's friend and former rival, and the other half of one of sports' most famous ad campaigns, was there, too. It brought back memories of where it all went wrong for him 20 years ago.
Four years before the high of the gold, O'Brien experienced a very disappointing low.
Missing Barcelona
The setting was Tad Gormley Stadium in New Orleans. At stake was a place on the 1992 Olympic team that would compete in Barcelona. O'Brien and Johnson were the top decathletes in the United States, and their rivalry for the gold medal was something even casual fans could get excited about.
Reebok, Team USA's sponsor in 1992, concocted an ad campaign featuring O'Brien and Johnson: "This summer, they'll battle it out in Barcelona for the title of world's greatest athlete."
They didn't.
In what still is considered one of the greatest meltdowns in sports history, O'Brien failed to qualify when he "no-heighted" in the pole vault, the eighth event of the decathlon.
O'Brien had passed on the lower heights, opting to qualify by clearing the bar at 15 feet, 9 inches. He missed on all three jumps.