D.C. tax collectors have filed a six-figure lien against a company at the center of a campaign finance probe embroiling D.C. Mayor Vincent C. Gray and raising questions about the fundraising activities of many federal and local candidates during the past decade.
Belle International Inc., largely unknown until its owner, Eugenia C. Harris, pleaded guilty to a straw political donor scheme this summer, owes the D.C. government more than $100,000 in unpaid corporate franchise taxes, interest and penalties, according to a recently filed lien. Harris is a political operative who pleaded guilty to helping orchestrate a massive straw-donor scheme to help Mr. Gray unseat Mayor Adrian M. Fenty in 2010.
But Belle's largesse is hardly limited to Mr. Gray. Since 2008, Belle has donated more than a dozen times to D.C. politicians. Harris, too, has contributed personally to federal and D.C. candidates, ranging from failed D.C. Council campaigns to President Obama.
Federal prosecutors said in charging papers in June that Harris, who controlled Belle and another company called Details International Inc., secretly funneled money to fund an off-the-books shadow campaign for Mr. Gray, though officials have not charged the mayor with any wrongdoing or said he knew about the scheme.
Belle nonetheless played a key role in the scheme, as illegal campaign money was laundered through the company, according to prosecutors.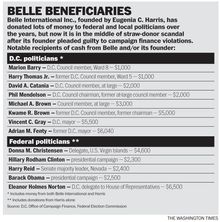 Harris, 75, also was reimbursed $44,000 for campaign donations in 2010 made in the names of other donors, though prosecutors said the scheme stretched back a decade and involved money flowing into local and federal campaigns.
The source of all that cash was not revealed in court papers, but subpoenas sent to D.C. lawmakers make clear that authorities have been investigating longtime fundraiser and city contractor Jeffrey E. Thompson, whose home and office were raided by federal authorities this year.
The tax lien against Belle covered the 2010 tax year. It was filed because of $51,000 in unpaid corporate franchise taxes, meaning that Belle would have had taxable income that year of at least a half-million dollars. Interest and penalties added to the debt made the bill about $104,000.
An attorney for Harris — who faces three years in prison under federal sentencing guidelines — did not respond to messages about the lien. It's unclear whether the lien reflects income from the fundraising activities or other business. City tax collectors filed the lien about a month before Harris pleaded guilty in federal court in July.
Natalie Wilson, a spokeswoman for the city tax office, declined to comment other than to say the lien was filed as a part of a collection action.
Throughout the years, donations from Harris and Belle closely aligned with Mr. Thompson's political giving. In 2010, for example, Harris and Belle, along with two other businesses she helped incorporate, all donated the maximum $1,000 contribution to D.C. Council member Phil Mendelson. On the same day, his campaign received $1,000 donations also from Mr. Thompson, D.C. Healthcare Systems and a subsidiary, RapidTrans Inc. Since Harris' guilty plea, some politicians have been rushing to ditch donations from Mr. Thompson and his associates, including Harris.
Maryland Gov. Martin O'Malley and Lt. Gov. Anthony G. Brown, as well as former Virginia Gov. Tim Kaine, who is running for the U.S. Senate in Virginia, all have moved to donate to charity or return contributions tied to Mr. Thompson or Harris since her guilty plea.
But D.C. politicians have made no such move, pointing out that their campaign funds technically are closed out and so they can't keep leftover money from past election cycles. D.C. law does permit officials, however, to move money into their constituent-service accounts, which are supposed to be used for needy residents.
One of the largest beneficiaries of donations over the years from Harris has been Delegate Eleanor Holmes Norton, the District's lone representative in Congress. Mrs. Norton has accepted $6,500 from the political operative, as well as tens of thousands of dollars from Mr. Thompson and his associates.
While other Democrats moved to return or donate contributions tied to Mr. Thompson, Ms. Norton said she was not planning to do so because all of the contributions she received were legal. Her campaign declined to answer questions from The Washington Times last month about whether officials planned to part with donations from Harris now that she has pleaded guilty to federal campaign violations.