The Bluths are back, as Jason Bateman kindly keeps reminding us.
The "Arrested Development" star tweeted a photo from the set of the revived comedy Tuesday, the first day of production for season four.
"First day. Away we go " he tweeted.
Mr. Bateman — who as Michael Bluth reprises his role as the son who has no choice but to keep his family together — last month tweeted a set photo of onscreen son Michael Cera.
While these photos haven't revealed much plotwise, executive producer Mitch Hurwitz said in April that each episode would focus on one of the show's characters as a way to bring viewers up to speed on what has happened in the years since the show went off the air.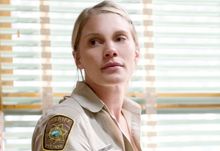 Last month, the show's narrator and executive producer, Ron Howard, tantalized fans by tweeting a photo of the script for the first episode, titled "Michael," a strong indicator that Mr. Bateman's character is the focus of the season premiere.
"Arrested Development" ran on Fox for three seasons from 2003 to 2006 before being canceled. Its revived form will hit Netflix during the first half of 2013.
'Battlestar' fans get credit for 'Longmire's' success
Actress Katee Sackhoff has a confession: She's obsessed with TV personality Bethenny Frankel.
"She's probably a kindred spirit of mine," said Miss Sackhoff, who stars on the A&E series "Longmire," in a recent Associated Press interview.
Miss Frankel became famous as one of the cast members of "The Real Housewives of New York." She's written several books and recently debuted a talk show on Fox. Miss Sackhoff says she follows her on Twitter.
"I've never met somebody in the public eye who speaks as honestly as I do," Miss Sackoff said of Miss Frankel, "and it's refreshing because there are times where I question whether or not people can actually handle the truth or if they want it. I'm a very open book about who I am. I think it's the only way to kind of touch people and she's done it. It's pretty amazing."
Miss Sackhoff, 32, has had success playing women who aren't shrinking violets.
She starred as Kara "Starbuck" Thrace on "Battlestar Galactica," which made her a fan-boy sex symbol. Now she's holding her own as Deputy Sheriff Victoria "Vic" Moretti on "Longmire," based on the best-selling novels by Craig Johnson. Robert Taylor plays Sheriff Walt Longmire. The show airs its first-season finale Sunday.
Miss Sackhoff said she enjoys playing Vic.