✔ Pick of the Pack
Comedy: Michael McDonald
For 239 episodes, Michael McDonald was the face of "MADtv," a sketch comedy show that ran from 1995 to 2009 on Fox and continues to exist in syndication. Mr. McDonald created the show's single most memorable character — a squeaky-voiced powder-faced man-child named Stuart — and as the senior comic, he provided ballast for his oftentimes hit-or-miss co-stars. Considering what he did for "MADtv," it's something of a shame that Mr. McDonald hasn't "blown up" the way many of his peers on "Saturday Night Live" have. (His tenure on "MADtv" overlapped with Will Ferrell's on "SNL" for almost five years.) But that soon could change: Mr. McDonald has been cast in a forthcoming buddy-cop movie written by Paul Feig, the genius behind "Freaks and Geeks" and a writer for some of the best comedy shows of the past decade. Mr. McDonald will play the villain, which diminishes the odds that the film will catapult him to the heights of a Mr. Ferrell, a Jonah Hill or a Zach Galifianakis. Then again, it very well could. That means you should see Mr. McDonald's "Model. Citizen." stand-up routine now, before he sells out and moves up.
Friday through Sunday at the DC Improv, 1140 Connecticut Ave. NW
Phone: 202/296-7008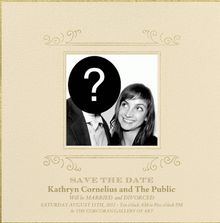 Web: www.dcimprov.com
Performance Art: Kathryn Cornelius
When she was younger, pop singer Britney Spears made news by marrying an old flame from her hometown and then, 55 hours later, having the marriage annulled. More recently, reality TV star Kim Kardashian dominated tabloids with a more calculated stunt, in which she divorced basketball player Kris Humphries after a very public 72-day marriage. This weekend, Kathryn Cornelius will up the ante for absurdly short marriages by marrying and then divorcing seven people in one day. In "Save the Date," Miss Cornelius will select six applicants, whom she will then marry, celebrate with and divorce, one at a time. A licensed minister will conduct the ceremonies, and a licensed divorce lawyer will be waiting in the wings. Miss Cornelius' seventh husband will be selected by a public vote of the audience. Cake and champagne will be available. Will the institution of marriage be able to survive this egregious assault? We think so.
Saturday at the Corcoran Gallery of Art, 500 17th St. NW
Phone: 202/639-1700
Web: www.corcoran.edu
For Families: Arlington County Fair
If you're looking for a good reason to take your brood to the Arlington County Fair, consider this: Temperatures on Friday and Saturday are predicted to be the area's coolest in more than a month. The weather seers are claiming a high of 88 on Saturday, which is warm but not scorching. If fear of heatstroke and/or melting have kept you and yours cooped indoors since June, now is your chance to get some vitamin D and have fun doing it. The fair will feature several heats of piglet racing, pony rides, small amusement rides, magic and music, and soccer and lacrosse scrimmages. If the seers are wrong and this weekend ends up hotter than Hades, the fair features barbecue and clogging indoors.
Through Sunday at Thomas Jefferson Community Center, 3501 Second St. S., Arlington, Va.