PAJU, South Korea — Just south of the Demilitarized Zone, hundreds of identical wooden grave markers poke from a grassy hill surrounded by rice paddies and trees.
Some markers are rotting. Others have been knocked to the dirt. Most have no names.
Here, within sight of the North's dark mountains, is South Korea's badly neglected "enemy cemetery," the final resting place for Chinese and North Koreans, most of them killed in the Korean War, which ended with an armistice agreement 59 years ago.
The two Koreas remain bitter enemies. China, however, has become one of Seoul's most important economic partners and a significant source of tourists.
But those interested in visiting the graves of their countrymen who fought in the 1950-53 conflict may have a hard time even finding it. There is no parking lot, nor signs on the main road, and those who do make it are often saddened by what they see.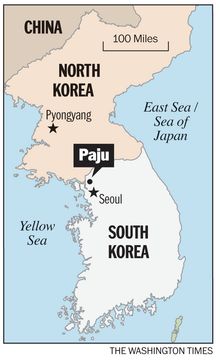 "My fellow countrymen were left in the wild by themselves. So lonely," said Huang Zhun, son of a Korean War veteran who survived.
Mr. Huang, a businessman in east China's Hangzhou city, visited the cemetery last year to honor the dead.
Last year, more than 2 million tourists visited South Korea from China, which established diplomatic ties with Seoul in 1992 and has been its biggest trading partner since 2004.
South Korean records estimate nearly 150,000 Chinese troops died in the Korean War, while China says 116,000.
Mass graves, 'no names'
Inspired by visiting Chinese, local officials have reviewed plans to renovate the cemetery.
But the bitter feelings most South Koreans have toward their northern neighbors remains a seemingly insurmountable obstacle.
"How can we sympathize with people who aimed their guns at us?" said Won Bok-gi, an 82-year-old Korean War veteran. "I absolutely oppose such a move. … We should destroy such a place."
The South Korean government has collected the scattered remains of about 770 North Koreans and 270 Chinese and buried them here since 1996, calling it a humanitarian measure. Most of the dead are unidentified.
Qin Furong, a 63-year-old bank employee from Jinan in eastern China, had long dreamed of finding the remains of her father, who was killed in the war when she was 2. She visited the enemy cemetery after learning about it in 2010, but found most of the graves marked only by wooden signs that read "anonymous."