NOWATA, Okla. — Ken Zacher was a white 31-year-old high school basketball coach from an almost all-white town in rural Oklahoma, and there he stood on a stage before thousands at the 1972 national NAACP convention in Detroit.
He knew he had just a little time, and so he began to tell the story of how his team had elected a black captain who, by school tradition, was supposed to escort the homecoming queen in a ceremony marked by a simple kiss. But facing the prospect of a black captain and white queen, school officials told Zacher to ask his captain to step down. Zacher refused.
"They hired me as an educator to remove ignorance, and if I perpetuated ignorance and racial prejudice, I wouldn't be doing my job," he said. His remarks, never reported, are clearly audible on an old recording of the convention at the Library of Congress.
Zacher would never coach another game in Nowata, despite a record of 91 wins and 46 losses that only begins to tell the story of his basketball success. Four years later, he would be found dead in a Kansas City suburb three days before his 36th birthday, leaving those who knew him best, even now, to question the price he paid for taking his stand.
Forty years ago, the end of Ken Zacher's tenure split people in this small northeast Oklahoma plains city of about 3,300. Families fought, friendships ended and some left and never came back. Blacks supported Zacher, whites wanted him fired. There were exceptions, of course, but the only group that stuck together, it seemed, was the one in the middle of it all, Nowata's 1971-72 Ironmen basketball squad.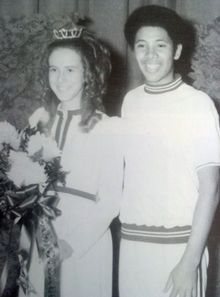 Hours of interviews and hundreds of pages of old newspaper clippings and court records at the National Archives, as well as Zacher's own recently-discovered words, shed new light on a central figure in this forgotten civil rights controversy, a brilliant but unyielding personality years ahead of his time on the court and off.
The critics said Zacher defied authority. Others believe he answered to a higher one: not God or Jesus, necessarily, but his internal, nonnegotiable moral compass. In the post civil rights era, he was a volatile figure pushing for racial equality in an unsettled time. The seemingly quiet, tiny city of Nowata, surrounded by shallow oil fields and cattle ranches, was unprepared or unwilling to accept the rapid pace of change this outsider sought.
And so the place erupted.
…
They were Zacher's boys. Some were poor and had never left the state or so much as tasted pizza until their first road trip. But when they made the team, life changed. They received new socks and sneakers and leather-bound playbooks filled with defenses, special situations, terminology and the Zacher team motto: H3, shorthand for "Hustle, hustle, hustle!"
They wore maroon blazers and stocking caps. Student managers carried and washed their gear. Opposing teams stared as they walked wordlessly into their gyms.
Zacher, who was a little over 6-foot tall with brown hair and a round boyish face that masked the intensity of his ways, led the Ironmen to a dozen tournament championships in five years. He had moved from Alva, a little town about four hours west, into a small ranch-style house in Nowata with his wife, an elementary school teacher, and grade-school age daughter.
Within four years, he was turning down job offers at bigger high schools, scouting part-time for Ted Owens, the legendary University of Kansas coach, and serving as head of the state coaches' association.
In one hastily arranged team photo likely taken minutes after a big win, Zacher is wearing a rumpled suit jacket and striped tie, and all in front are his players, his boys, black and white, jumbled together, laughing and holding up index fingers — we're No. 1! Zacher is smiling. It's a rare moment of contentment for a coach who drove his players hard but drove himself infinitely harder.
Once, the team bus rolled into the school parking lot around 2:30 a.m. after a tough loss and a nearly five-hour ride from a weekend tournament in Oklahoma City. The weary boys trudged off toward home. Zacher stopped them.