✔ Pick of the Pack
Concert: Ronnie Spector's Best Christmas Party Ever
Ronnie Spector's distinct voice is probably best known from the Ronettes' 1963 international pop sensation, "Be My Baby," later featured on the "Dirty Dancing" soundtrack, as well as the group's other hits like "Walking in the Rain," "Baby I Love You" and "The Best Part of Breaking Up." A favorite of cover bands and karaoke clubs, she was inducted into the Rock and Roll Hall of Fame in 2007 for her influence on female rock singers, and the genre in general. Despite being dubbed the "bad girl of rock 'n' roll," Miss Spector's strong and sparkling vocals are perfect for the holiday season's cheesiest pop tunes — and her take on "Sleigh Ride" and "Frosty the Snowman" are some of the most-played versions of the songs. Join her at the Howard Theatre on Saturday evening for her Christmas Party concert, which she's been performing since 1988, and rock around the Christmas tree to holiday favorites as well as songs from her girl group days.
Saturday at the Howard Theatre, 620 T St. NW
Phone: 202/803-2899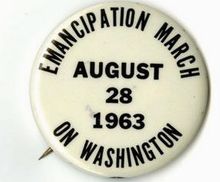 Exhibit: 'Changing America'
Next year, we'll commemorate two of the most important events in the black civil rights movement and, indeed, our country's history. Jan. 1 marks the 150th anniversary of the Emancipation Proclamation, which President Lincoln issued in 1863. Aug. 28 marks the 50th anniversary of the March on Washington, one of the largest political rallies ever in the United States, during which Martin Luther King Jr., gave his "I Have a Dream Speech" at the Lincoln Memorial. On Friday, the Smithsonian's National Museum of American History, in conjunction with the African American History and Culture Museum, will open an exhibit about these events, telling the story of civil rights in America through significant objects, such as Lincoln's top hat, Harriet Tubman's shawl, and a copy of the Emancipation Proclamation that Union soldiers distributed to slaves during the Civil War, as well as a collection of photographs from both periods.
Through Sept. 15 at the National Museum of American History, 1400 Constitution Ave. NW
Phone: 202/633-1000
Nightlife: 9th & Beats Opening Weekend
Washingtonians are lucky to have access to a variety of concert halls, comedy clubs, art galleries, you name it. This week, another venue was added to the mix — but this one is dedicated to showcasing local, emerging talent. 9th & Beats, located inside the Old Dominion Brewhouse near the Washington Convention Center, opened Thursday with its first "Rebels With a Cause" concert, a soon-to-be-ongoing music event featuring younger musicians and bands with proceeds benefiting various local causes. On Friday, 9th & Beats will host comedian Seaton Smith, a D.C. resident who studied film at Howard University, along with other local stand-ups. On Saturday, stop by during the afternoon to hear local bands or check out the late-night interactive art party featuring local artists, including sculptors and videographers. If your college-age children home for the holidays are too cool for family-friendly events, but still too young for cocktails, bring them to a concert or comedy show here, as the venue is open to people 18 and older.
Through Saturday at 9th & Beats at the Old Dominion Brewhouse, 1219 9th St. NW
Phone: 202/549-9411