CLEVELAND — Don Cousins stood in the front row of Cleveland Browns Stadium and leaned over the wall to greet his son. Throughout Kirk Cousins' football career, Don has embraced the brilliance of a shared moment anytime another dream is realized. So the pride beamed from Don's face as Kirk approached, victorious and smiling.
"We did it," Kirk said, as Don recalled. "We did it."
And they celebrated together a crucial Washington Redskins win and Kirk's moment of validation.
The fourth-round rookie quarterback replaced injured star Robert Griffin III on Sunday and, in his first career start, continued the Redskins' magical late-season run by deftly operating their base offense in a comfortable 38-21 victory over the Cleveland Browns.
"If I die tomorrow, I could say I started a game in the NFL and we won," Cousins said. "It's a good feeling."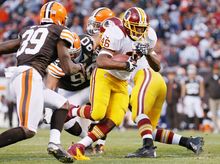 The Redskins, with a trail of fire behind them, won their fifth straight game and surged into a three-way tie for first place in the NFC East with the New York Giants and Dallas Cowboys. With two weeks remaining in the season, Washington (8-6) holds the three-team tiebreaker advantage because of a superior head-to-head winning percentage against the others.
This team that appeared buried six weeks ago is two wins from its first division title in 13 years.
"All I know is we've got to win the next two games," veteran safety Reed Doughty said of next week's trip to Philadelphia and the season finale at home against Dallas. "If we win, we're in the playoffs. That's a great place to be."
Cousins' grand performance in relief positioned them there.
He rebounded from a slow start to finish 26-of-37 passing for 329 yards, two touchdowns and an interception. His passer rating was 104.4. Knowing Griffin might return next week made it even more special.
Cousins eventually thrived in the offensive scheme the Redskins ran last season, the one in which the less-dynamic Rex Grossman threw for 3,151 yards. Cousins shredded the Browns' defense with play-action passes buoyed by misdirection behind the line of scrimmage.
Offensive coordinator Kyle Shanahan shelved the pistol formation and quarterback zone-read option runs that Griffin has thrived off of during his rookie season, and the Redskins still reached the 38-point mark for the fourth time this year.
Cleveland's linebackers were determined to stop rookie running back Alfred Morris, and that opened space for Cousins and Redskins receivers to attack.
"They made it their job to stop our run, and they did a great job," said Morris, who ran for 87 yards and two touchdowns. "We started using that against them. They were stacking the box, so we was, like, play-action."
Cousins was nervous before the game. That was clear to Don Cousins, who had seen his son start slowly enough times at Michigan State and at Holland Christian High School.