Ryan Burbrink knew that time was running out on his dream of playing college football.
After a stellar career at DeMatha Catholic, in which the wide receiver from Shady Side, Md., was named to the All-State team after a senior season in which he tallied 28 catches for 632 yards, Burbrink wasn't drawing much interest from recruiters.
So he headed off the University of Pittsburgh's summer camp, giving himself one final shot at finding a place to play. And after an impressive performance there, he drew the interest of an unlikely suitor — Bowling Green.
"We had some coaches working at the University of Pittsburgh camp," Falcons coach Dave Clawson said. "They saw him and really liked him. We thought he was a guy that might be under the radar."
Indeed. There's not much of a market for 5-foot-8 slot receivers, so the Falcons had the inside edge merely by expressing some interest.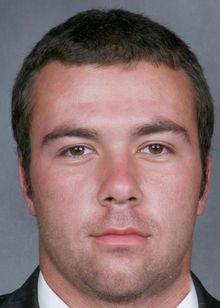 "They offered me a preferred walk-on spot," Burbrink said. "Bowling Green gave me an opportunity, and I jumped on it."
Burbrink's rags-to-riches tale continues at next Thursday's Military Bowl at RFK Stadium, where the Falcons (8-4) will try to cap a surprising campaign with a victory over No. 24 San Jose State (10-2) with help from one of their most unlikely heroes.
After redshirting in 2011, Burbrink faced steep odds in trying to crack Bowling Green's depth chart, but he put in the work to make an impression on his coaches.
"Coming in as a walk-on, you have a lot to prove," he said. "People have told me I was too small, too short, and it just motivated me. My mindset was getting out there and working twice as hard."
It's rare that a walk-on has a breakout game against Florida, but there was Burbrink, in the Falcons' season opener, nabbing a game-high eight catches for 45 yards in the team's 27-14 defeat, a sign of things to come.
"It was a great experience," he said. "You see Florida, and they're the No. 2 team in the nation. It was a confidence booster knowing I could go out there and play well against a great defense like that."
Burbrink played in 11 games this season (he missed the contest against Rhode Island with a strained hamstring), starting six of them, and finished with 36 receptions for 305 yards, plus an average of 9.4 yards per punt return.
"He's earned a starting job. He's tough and catches everything thrown his way," Clawson said. "He's very reliable, very dependable. He's a good, hard-working, blue-collar football player."
Burbrink credited his success to doing the little things right.
"I think it's knowing the playbook and understanding the defense," he said. "The big thing is catching the ball. I love getting the ball, and the only way you're going to get it is if you catch it."