✔ Pick of the Pack
Theater: 'An Iliad'
As literature students know, Homer's epic poem "The Iliad" tells the story of the final year of the Trojan War and the eventual death of the warrior Achilles by an arrow shot into his heel. Denis O'Hare, an actor and playwright known for roles on hit shows "True Blood" and "The Good Wife," and Lisa Peterson have adapted Robert Fagles' widely read translation into a theatrical performance they hope elevates the story from required reading to the compelling saga it's meant to be. After running at the New York Theatre Workshop earlier this year to acclaimed reviews, the one-man show opens at Washington's Studio Theatre on Friday. The play is meant to provide thought-provoking commentary — exciting and "satisfying" commentary, according to Time Out New York — on heroism, war and humanity's response to being at war. Indeed, it might make you wonder whether modern humans are any different from the Trojans and Achaeans.
Through Jan. 13 at the Studio Theatre, 1501 14th Street NW
Phone: 202/332-3300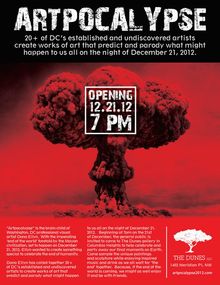 Exhibit: Artpocalypse
After a few false alarms, the Mayan calendar predicts that the world is scheduled to end Friday. If you're a doomsdayer, you might as well stop worrying and have a drink — and even if you're not, there's no reason you can't party like it's your last night on earth with some of Washington's most creative, right? On Friday, Columbia Heights art gallery and events venue The Dunes will host works by local artists who have creatively interpreted (or parodied) the end of the world. The free event will feature Dana Ellyn, a Washington resident whose humorous paintings provide sharp commentary on politics and other hot topics, as well as about two dozen other painters, sculptors and mixed-media artists, as well as music and cocktails. If the world ends, you'll go out with a bang — and if it doesn't, the exhibition will remain on view through Jan. 31.
Friday at The Dunes, 1402 Meridian Place NW
Phone: 202/463-9118
Concert: Christmas With the Rat Pack
Arguably, nobody sings Christmas songs like the Rat Pack, and specifically the legendary singers Frank Sinatra, Dean Martin and Sammy Davis Jr. It's just not the holiday season without hearing Martin's "Let It Snow" or Sinatra's "Mistletoe and Holly." In 2002, Capitol Records released an album titled "Christmas With the Rat Pack," consisting solely of songs by the three supper-club crooners, including the never-before-released "Christmas Time All Over the World" by Davis. This weekend, join them — or some very good impersonators, at least — to hear their renditions of some of your favorite holiday songs, as well as enjoy comedy, sketches and general merriment at the Carlyle Club in Alexandria. Leave your modern-day cares behind and step back in time for dinner, dancing and an evening reminiscent of one in the supper clubs of 1960s New York or Las Vegas. It's the perfect night for a martini before the family arrives in town.
Friday and Saturday at the Carlyle Club, 411 John Carlyle St., Alexandria, Va.
Phone: 703/548-8899