If a business is open 24 hours a day, can it remove the locks from its doors?
It's not that simple, explains Mario Maesano, a spokesman for the Maryland Live Casino, but the hope of officials with the nation's third-largest casino is that starting Thursday — barring any future emergencies — those doors will stay open and the era of all-nighters can begin.
"This is not just for people to come in around 2 or 3 in the morning," Mr. Maesano said. "This is for people who are already here, who are interested in staying throughout the evening."
On Thursday, the casino was teeming with people eager to try their luck, and though the crowds largely swung to seniors visiting family or retired residents who might not take advantage of the night-owl hours, the general consensus was that round-the-clock operations couldn't hurt the casino.
Dressed in sequined leggings, a leather jacket and bold, black eyeglasses, Cheryl Jackson of Prince George's County was finishing up her time behind one of the casino's 4,750 slot machines.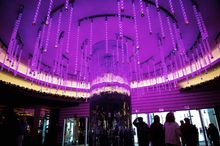 Ms. Jackson said she normally comes to the casino after she gets off work as a delivery woman. Her shifts start at 4 a.m., so while she gets out early, she also has to be in bed at a reasonable hour.
"Sometimes I win, sometimes I don't," Ms. Jackson said, "but I might stay late."
And if she hits a winning streak: "I sure will," she said with a laugh.
Maryland Live became a 24-hour casino at 8 a.m. Thursday. Gone are the days of shutting its doors at 2 a.m. during the week, or 4 a.m. on a Saturday night.
More than 1,000 people are set to be hired to help with the casino's transition to 24-hour business, as well as the poker, blackjack, roulette and other live table games being rolled out in the spring. Table games were approved by voters in November, along with a bill that paved the way for another casino, Maryland's sixth, to be built at National Harbor in Prince George's County.
At Maryland Live, 150 table games are planned for the casino, along with a poker room that can hold 30 to 50 tables. A dealer school run by the casino is planned for January.
"We're adding new staff, and there've been some adjustments to people's schedules," Mr. Maesano said.
The casino already had some departments — security, slot service and cleaning staff — that operated on a 24-hour basis, but the gambling house is adding more servers and club staff, as well as more customer-service employees, Mr. Maesano said.
Darting among the ringing slot machines on Thursday, Katherine Herbst left a trail of pink feathers in her wake, the playful boa around her neck offsetting the twinkling plastic tiara perched on top of her light blond hair.
With a squeal, she raised her zebra-print wine glass, the number "21" painted in pink on its side.