Smartphones can hail a cab, stream football games and take high-quality photos, so the wireless industry's latest trick may seem as out of place as it was long in coming — rendering the phone as useless as a plastic brick.
Wireless companies such as AT&T, Sprint and Verizon can now shut down a customer's smartphone when it is reported lost or stolen. The effort, which took root in the United States earlier this year, is being coordinated by the Federal Communications Commission and should reach its next milestone early next year, when major carriers are expected to share their databases of blacklisted phones.
Officials and wireless companies looked for a way to shut down service to the devices, a process known as "bricking," in response to the drastic uptick in robberies involving smartphones from coast to coast. Androids, iPhones and other high-tech phones are targeted in more than 40 percent of robberies in New York City and the District, and nearly half of the robberies in San Francisco this year involved smartphones, according to The Associated Press.
Disabling a stolen phone not only makes it worthless on the black market — ostensibly leading to decreases in the number of robberies — but also protects consumers from having their identities stolen because of sensitive data they keep on their phones, according to FCC officials and law enforcement.
Metropolitan Police Chief Cathy L. Lanier, recognized as a leading advocate for the project, said a stolen phone should be reported immediately so police have the chance to catch the thief.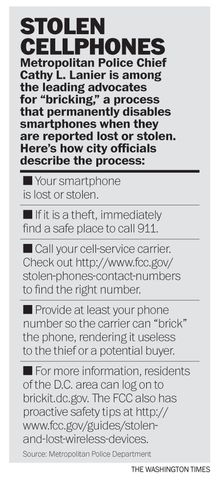 "Always call 911 first, and then call your carrier," she said at a news conference Monday. A victim should at least know his or her cell carrier and phone number to successfully report the phone to their individual carriers.
Chief Lanier said she reached out to police chiefs in about 65 cities to spearhead the initiative earlier this year, an effort that included an appearance on NBC's "Today" show to criticize carriers that were slow to hop onboard the effort.
"We saw that all across the United States, every city was having the same problem — so everybody was frustrated," Chief Lanier said, adding that she can no longer "take shots" at the carriers because they met their deadlines this fall to implement the technology.
Brian Josef, vice president for regulatory affairs at CTIA-The Wireless Association, said Monday the industry wanted to "study the issue and come up with an initiative that was going to be effective."
Chief Lanier's plea to consumers to take advantage of the ability to make their stolen phones inoperable follows an announcement she made in April with FCC Chairman Julius Genachowski, Sen. Charles E. Schumer and police chiefs from New York City and Philadelphia. They gathered in the nation's capital to announce that major phone carriers representing about 90 percent of U.S. consumers had agreed to develop and implement the databases that blacklist electronic devices from service after they are reported stolen. Mr. Schumer, New York Democrat, joined them to tout legislation that would make it a federal crime to tamper with identifying codes on wireless devices, similar to the prohibition on modifications to VIN numbers on motor vehicles.
On Monday, D.C. Mayor Vincent C. Gray told reporters that carriers had followed through on their promise, so consumers should log onto brickit.dc.gov to learn how they can report smartphone thefts. The FCC also has posted contact numbers for the country's major wireless carriers.
AT&T and T-Mobile have taken steps to make sure their data is shared, and all carriers will move to share their information next year, Mr. Josef said. All major carriers are working to establish a common database by November 2013, as phones migrate toward high-performance LTE (Long Term Evolution) wireless technology.
"As we move forward and have more of these [LTE] devices, we want to make sure the database compiles them as well," Mr. Josef said, noting that the industry is also looking beyond the nation's borders.
Last month, Mr. Genachowski said the FCC and Mexican government agreed to disable lost or stolen phones on networks in either country, an initiative designed to crack down on the cross-border market for stolen goods.
Meanwhile, D.C. police are handing out tip cards to people they see handling their phones in ways that could leave them vulnerable to theft. On a recent trip, they handed out 500 cards in one hour.