Historic town's clash leaves 'Tread' marks
Culpeper says tea party 'hijacked' historic logo
CULPEPER, Va. — In Virginia, there are few historical battles that aren't worth refighting.
That's a lesson officials in Culpeper, a town nestled in the state's Piedmont region, relearned this fall when they decided to create a new public relations branding campaign and tourism officials suggested that they go with a less "political" emblem. The problem: The town's existing logo — the iconic Revolutionary War-era rattlesnake and "Don't Tread on Me" combination — had been "hijacked" by the conservative tea party movement, staffers said.
But that, it turns out, was just as politically dangerous as sticking with the old image.
The town's logo is based on the Culpeper Minute Men, the local militia formed in 1775 to confront the British. In Virginia, that kind of historical tie is sacrosanct to many.
Letters flooded the local paper to protest the town's decision, and the Town Council has had to bat down charges that it intended to replace the logo, saying it will remain the standard for official town business and internal documents — though the new tourism-friendly logo will be the image the town tries to project to others.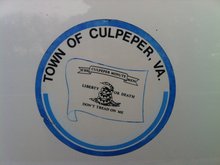 The current logo for Culpeper, Va., is displayed on a town vehicle. ... more >
"Honestly, I don't know where the confusion started. I think there was some misunderstanding and some misrepresentation, possibly, but our intention was never to replace the Minute Man seal. Our intention all along was to continue to use that for official documents," said Lori Sorrentino, director of tourism. "We just simply wanted to extend the tourism logo to some other uses."
Fans of the Minute Man logo aren't buying that explanation. They pointed to the word "replace" in a key staff report, suggesting at least some areas where the new would take over from the old. They also wondered what was wrong with using the historical logo to advertise the town anyway.
"The Culpeper Minute Men Battalion Flag is an American flag and symbol which belongs to all of us," said Gar Schulin, past president of the local chapter of Sons of the American Revolution. "It is not — and should never be — labeled as, or be confused with, a mere political symbol."
'Hijacked'
While many facts are in dispute, this much is clear: A town staff report this year said the Minute Man emblem "has unfortunately been hijacked in recent years by a political movement, the Tea Party, and it was assumed the town would prefer a positive, non-political identity."
Staffers said the proposed new logo, which features the word "Culpeper" on a big banner waving in front of rolling hills, could be used on town vehicles, signs and printed materials, though they said "the new logo is not meant to replace the town seal, except where it represents non-official documents."
Although the tea party and libertarian followers of Rep. Ron Paul of Texas had adopted the rattlesnake emblem, Ms. Sorrentino said, that was only part of the town staff's concerns.
"It wasn't a driving consideration; it was one of the considerations," she said. "We want to put out a tourism message that encompasses all of our tourism assets, and you want to do that in a way that doesn't involve politics, doesn't involve political stands, movements."
Town Manager Kimberly L. Alexander, who news accounts say approved the new logo, didn't return a message seeking comment.
But the Town Council has held multiple meetings to try to contain the fallout from the logo flap and to decide exactly where the old and new logos would be used. The most recent fight, which played out last week, was over which logo should be displayed on town vehicles.
View Entire Story
© Copyright 2013 The Washington Times, LLC. Click here for reprint permission.
Commentary
By Michael P. Orsi

Edward Snowden should declare his patriotism in court
Independent voices from the The Washington Times Communities
Southern Fried Politics from the Lens of a Persian-American Millennial
All of the world's problems, solved on your back porch
Paul Rondeau exposes the propaganda, media tricks, and government policies that undermine our families, faith, freedom…and even life itself
Implement these actionable tips, how-to's and best practices in 10 minutes or less to leverage online communications and technology for brand, business and career development.