It's official: From presidential campaign politics to a world gone "Gangnam Style," 2012 was the most dubious year yet.
Oh, and that's without mentioning a Mayapocalypse that fizzled harder than "John Carter."
As the year draws to a close — and with a nod to Esquire magazine — The Washington Times takes a final look back with our 2012 Dubious Achievement Awards.
Politics
Welcome to Washington! You'll fit right in! — Brushing off media criticism over misleading campaign advertisements, Neil Newhouse, a pollster for Republican challenger Mitt Romney, declared, "We're not going to let our campaign be dictated by fact checkers."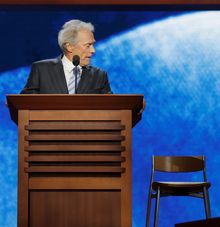 What has four legs, one back and is more eloquent than Rick Perry? — Actor Clint Eastwood gave a rambling, ad-libbed speech at the Republican National Convention in which he pretended to debate an empty chair.
Where are all the empty chairs when you need them? — During the vice presidential debate, Vice President Joseph R. Biden interrupted Republican challenger Paul Ryan more than 80 times.
Understatement of the Year — Following the first presidential debate, President Obama reportedly told strategist David Axelrod, "I guess the consensus is that we didn't have a very good night."
Overstatement of the Year — Mr. Ryan said in a radio interview that his best marathon time was under three hours, a claim he later admitted was exaggerated by more than an hour.
"Relax! I was just referring to 'Fifty Shades of Grey!' " — During a campaign rally in Virginia, Mr. Biden told attendees that Republicans would "put y'all back in chains."
So, does your committee actually, you know, meet? — Missouri Republican Rep. W. Todd Akin, a member of the House Science, Space and Technology Committee, told a local television station that abortion should not be allowed even in cases of pregnancy due to rape, because, "If it's a legitimate rape, the female body has ways to try to shut that whole thing down."
"No, that would be UnSkewedpolls.com" — During an election-night Fox News broadcast that saw analyst Karl Rove repeatedly insist that Mr. Romney would win Ohio and even ask the network's own decision desk to un-call the state and the race for Mr. Obama, anchor Megyn Kelly asked Mr. Rove, "Is this just math you do as a Republican to make yourself feel better?"
Yes, and please start with your hairstylist — After networks called Mr. Obama's victory on election night, Donald Trump said on Twitter that "We should have a revolution in this country!"
News
As Scooby and Shaggy looked on, "Justice Roberts" then removed his rubber mask to reveal New Jersey Gov. Chris Christie — The Supreme Court upheld Obamacare in a 5-4 decision that involved Chief Justice John G. Roberts Jr. reportedly switching from agreeing with the court's conservative justices to its liberal wing.