All the single ladies — and fellas — will have a chance to join Beyonce onstage at the upcoming Super Bowl.
Pepsi announced Friday that 100 fans will hit the stage when the Grammy-winning diva performs on Feb. 3 at the Mercedes-Benz Superdome in New Orleans. A contest that kicked off Saturday will allow fans to submit photos of themselves in various poses, including head bopping, feet tapping and hip shaking. Those pictures will be used in a TV ad introducing Beyonce's halftime performance, and 50 people — along with a friend — will be selected to join the singer onstage.
The photo contest — at www.pepsi.com/halftime — ends Jan. 19, but Jan. 11 is the cut-off date for those interested in appearing onstage with Beyonce.
Katie Holmes' Broadway play closing after six-week run
Katie Holmes' return to Broadway will be much shorter than she would have liked.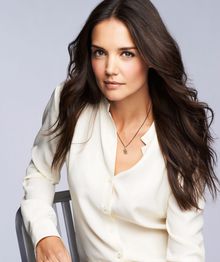 The former Mrs. Cruise's play "Dead Accounts" will close within a week of the new year. Producers said Thursday that Theresa Rebeck's drama will close Sunday after 27 previews and 44 performances.
The show, which opened to poor reviews on Nov. 29, stars Norbert Leo Butz as Miss Holmes' onstage brother who returns to his Midwest home with a secret. Miss Rebeck created the first season of NBC's "Smash" and several well-received plays, including "Seminar" and "Mauritius."
Miss Holmes, who became a star in the teen soap opera "Dawson's Creek," made her Broadway debut in the 2008 production of "All My Sons." She was married to Tom Cruise from 2006 until their divorce this year.
Tarantino to receive lifetime honor in Rome
The International Rome Film Festival said Friday it will present director Quentin Tarantino with a special lifetime achievement honor, along with a gala screening of his spaghetti Western homage "Django Unchained," the film's European premiere.
The event, at which iconic Italian film composer Ennio Morricone will present Mr. Tarantino with the award, will take place Friday. Although the seventh edition of the Rome festival concluded Nov. 17, the ceremony is being cast as a continuation of the festival, the first under the artistic direction of former Venice Film Festival head Marco Mueller.
Mr. Morricone, a five-time Oscar winner, composed the music for more than 500 films, including many of the best-known spaghetti Westerns.
Mr. Tarantino and "Django" have been connected to Mr. Mueller and the Rome festival since early in the year, even before Mr. Mueller officially was confirmed as artistic director in May. The film was not finished in time to screen at festival in November, but all along Mr. Mueller promised — always in cryptic terms — that Rome would play some role in the film's launch.
With Friday's screening, Mr. Mueller keeps his word. "Django" opened Christmas Day in North America, but the Rome event will be part of the international launch for the film, which will open in most European territories — including Italy — Jan. 16, 17 or 18.
In a statement, Mr. Mueller praised Mr. Tarantino's vision as a director.