Barry Cofield stood near one corner of the victorious Washington Redskins' locker room shortly after midnight Monday morning and served a few helpings of perspective.
He won the Super Bowl six seasons ago as a member of the New York Giants, so he simultaneously embraced the euphoria of the Redskins' first NFC East division championship in 13 seasons and respected distance that remains between them and their ultimate goal.
"Last place in the division last year to first is a testament to the organization, the way they've built this team," said Cofield, Washington's nose tackle. "Everyone has been consistent and really focused. I'm really proud of the group, and as long as we stay on this track, as long as we come in and prepare every day, play like our back is against the wall, play like we're the underdogs, we can compete with anybody."
The Redskins, as it turns out, are underdogs. The Seattle Seahawks on Monday opened as 2½-point favorites for their wild card-round game at FedEx Field on Sunday at 4:30 p.m.
They're the two hottest teams in the NFC. Washington won seven straight to complete one of the greatest turnarounds in NFL history and win the division crown at 10-6. Seattle has won five in a row but fell short of San Francisco in the NFC West race at 11-5.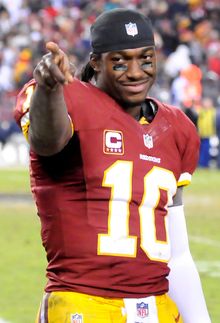 As the final 24 hours of 2012 elapsed, the Redskins went from celebrating their primary goal of winning the division to ensuring their incredible run doesn't stop there.
That began inside a postgame locker room that was more subdued than you might expect after a 28-18 victory over the rival Dallas Cowboys.
Some players, coaches and front office members wore black Division Champions hats, but that was the only noticeable difference between Sunday night's win and any other. The volume of chatter was normal.
The most emotional player was one who didn't play against Dallas. Outside linebacker Brian Orakpo, out for the season since Week 2 with a pectoral tear, shouted to no one in particular about the championship and how Washington was 4-12 during his rookie year in 2009.
The measured reaction stemmed partly from how the Redskins' goals are greater than the division title, but it also resulted from raised expectations. Players expected to beat Dallas. And after seven consecutive victories, they anticipate winning every game.
"I think that's what separates teams," coach Mike Shanahan said. "Teams that play with a lot of confidence, you get used to winning. You expect to win. It's a mindset."
By the time Shanahan met with reporters Monday afternoon, he had reviewed Washington's win but hadn't begun analyzing film of the Seahawks.
"We tried to celebrate a little bit," he said.
That quarterback Robert Griffin III ran for 63 yards on six carries despite his mildly sprained right knee intensified his positivity.
"I was a little disappointed yesterday because he only averaged 10.5 yards per carry," Shanahan deadpanned before smiling. "I was hoping he was going to average a little bit more."