PHILADELPHIA — Navy couldn't have expected much more from Keenan Reynolds' freshman season.
The quarterback somehow delivered Saturday, in the process raising his already impressive standard for a career just getting started.
Reynolds produced his third fourth-quarter comeback (and second against a service academy) in a 17-13 defeat of Army at Lincoln Financial Field, securing Navy the Commander-in-Chief's Trophy for the first time since 2009 and stoking the Midshipmen's dreams of extending their run over the Black Knights well beyond the current 11-game winning streak.
"Coming in, I didn't really think about the future," Reynolds said. "I'm aware we have three more years to keep this trophy in Annapolis, but I knew it all started here. We had to make it happen today. I couldn't think ahead, I couldn't think, 'Oh, we're going to beat these guys, what are we going to do for the next few years?' We knew these guys were going to fight."
So did Reynolds, only the third plebe to start at quarterback for the Mids (8-4) and only the second (along with Jim Kubiak in 1991) to beat Army.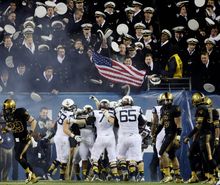 From his rapid emergence as Navy's top backup during preseason practice to providing an unflappable presence off the bench while rallying the Mids at Air Force, Reynolds mustered a stirring reply to nearly every challenge tossed his way.
In Saturday's triumph, Reynolds lost a fumble to set up Army's go-ahead score in the third quarter. When the Black Knights (2-10) missed a 37-yarder with 6:57 to play, Reynolds intuitively knew it would be Navy's best — if not only — chance to erase a 13-10 deficit.
"Keenan comes in and he uses his man voice and calls a play and does a really good job," wide receiver Brandon Turner said. "The way he talks and the way his presence is — I played quarterback in high school, so I know how important that is to an extent — he makes you want to believe in him. There's something about the kid. The way he led us on that last drive was unbelievable. "
Game after game unwinds, and Reynolds' on-field dossier grows ever more impressive. A victory off the bench in the most imposing road game the Mids will likely play? Check. A late touchdown pass to knock off Indiana in his first home start? Yep.
After three perfect plays — an improvised scramble, a 49-yard strike to Turner and an 8-yard touchdown run — Reynolds had done his part to help Navy erase a fourth-quarter deficit in a triumph over Army for the first time since 1989.
It was not remotely freshmanlike, but nothing Reynolds has done to date hints at a lack of experience. He's accounted for 18 touchdowns (10 rushing, eight passing) and just five turnovers, and Navy has won seven of eight since Reynolds took over for an injured Trey Miller against Air Force.
No one could have expected this. Not coach Ken Niumatalolo. Not offensive coordinator Ivin Jasper, who to his credit recognized similarities in comportment between Reynolds and former Navy star Ricky Dobbs in the early stages of preseason camp.
Even linebacker Keegan Wetzel, as sharp a guy as there is on Navy's roster and a man who met Reynolds on the quarterback's recruiting visit last year, never saw this sort of season coming despite recognizing some of Reynolds' intangible talents.
"He's probably the one who could tell you he knew that was going to happen," Wetzel said. "You could tell he had the mindset as a recruit: 'It's not going to faze me. Military stuff, I won't let it faze me. School, I won't let it faze me.' He was one of the strongest competitors I'd ever met without ever seeing him step on a football field."
So the question facing Navy (beyond its Dec. 29 date with Arizona State in the Fight Hunger Bowl in San Francisco) is just how remarkable a talent it has on its hands.